RAIZE 2023
Features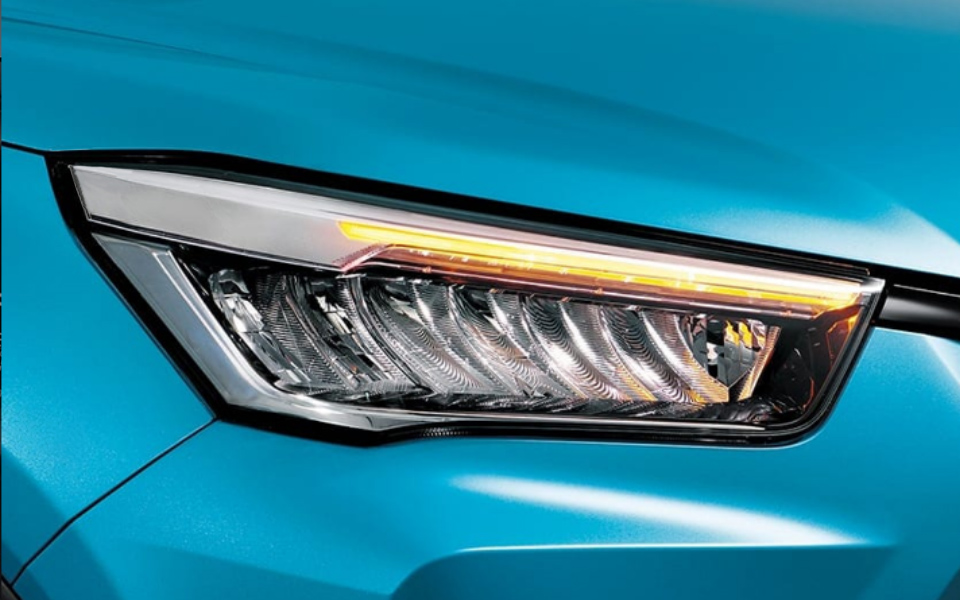 LED Head Lamps with Sequential turn Signal Lights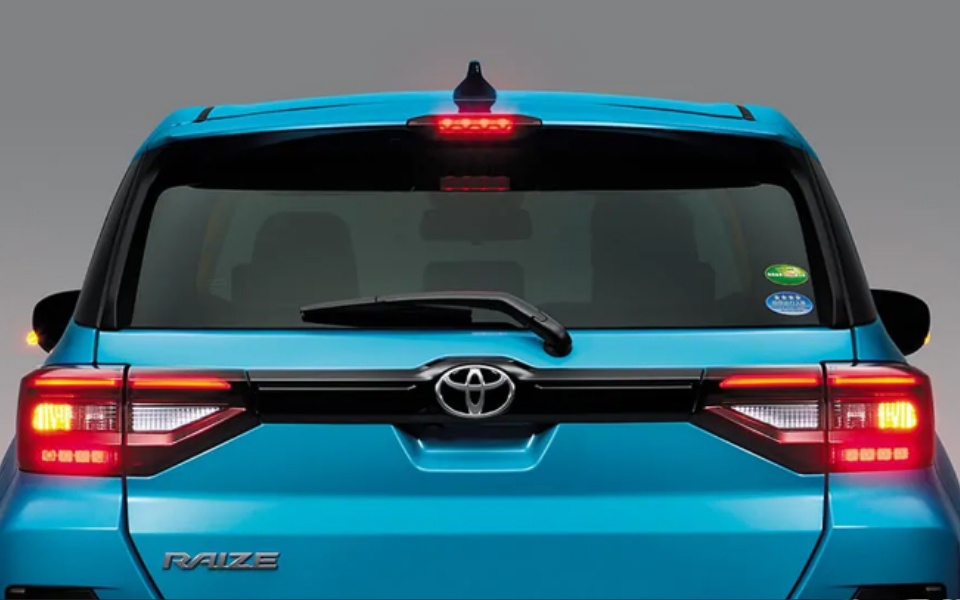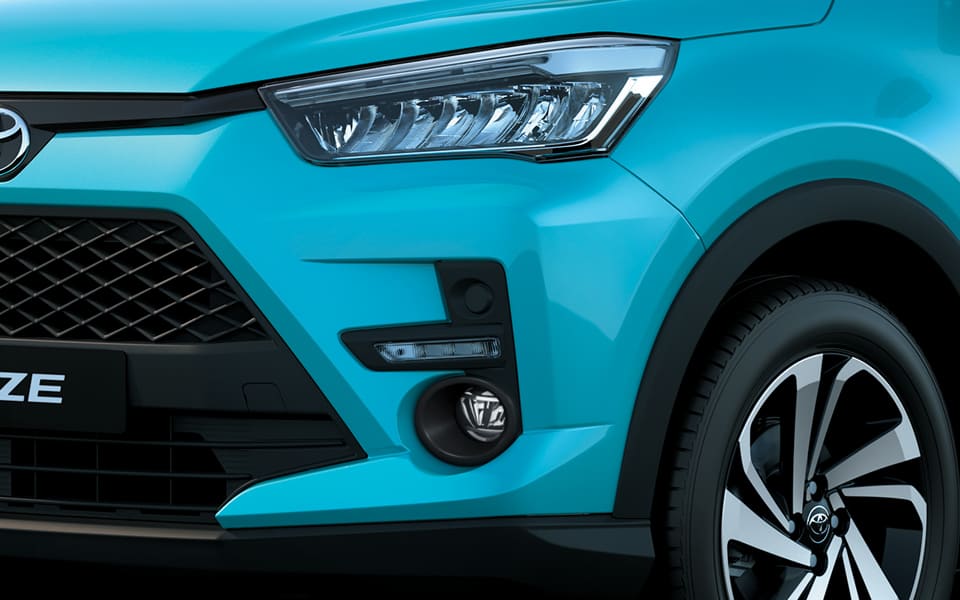 LED Daytime Running Lights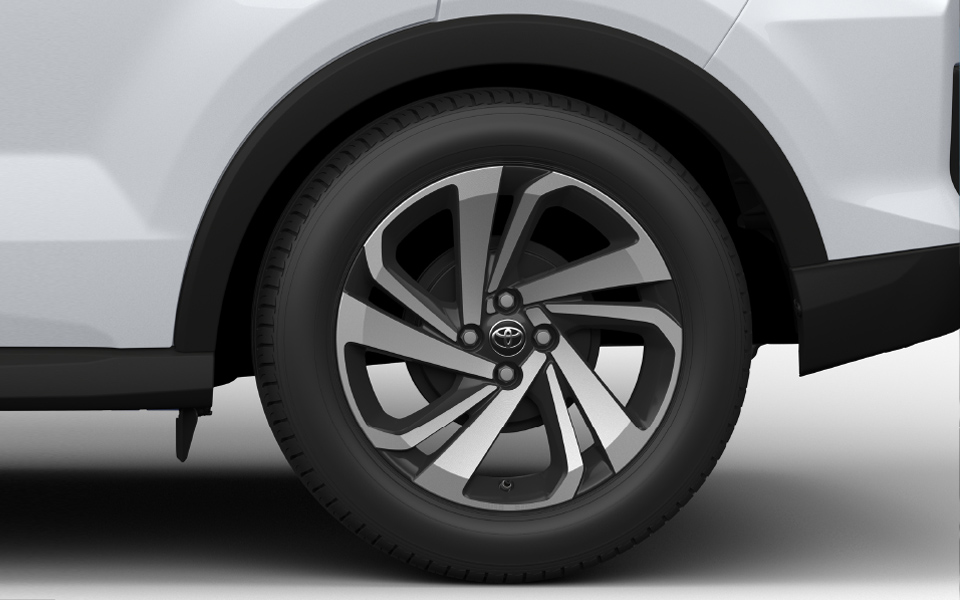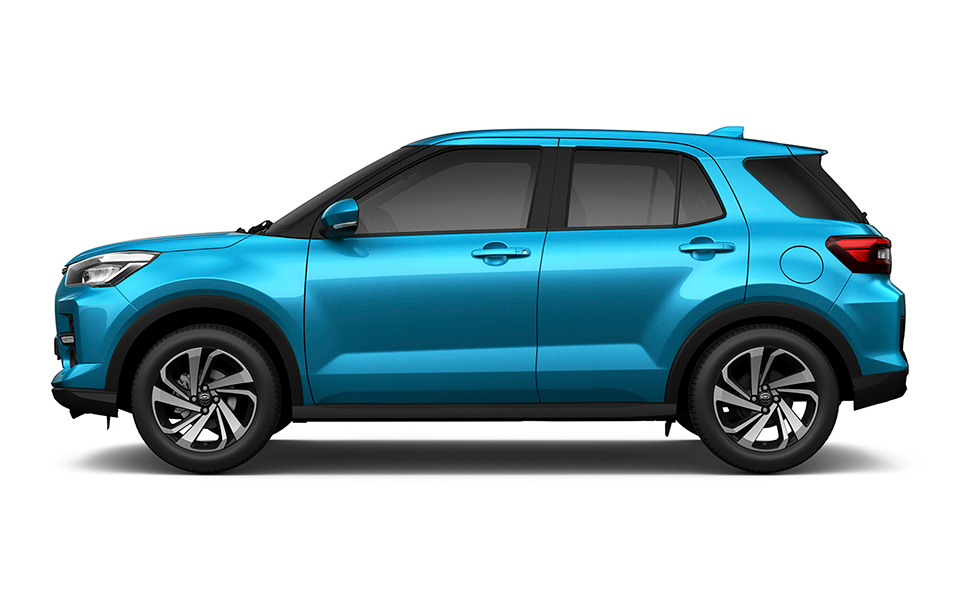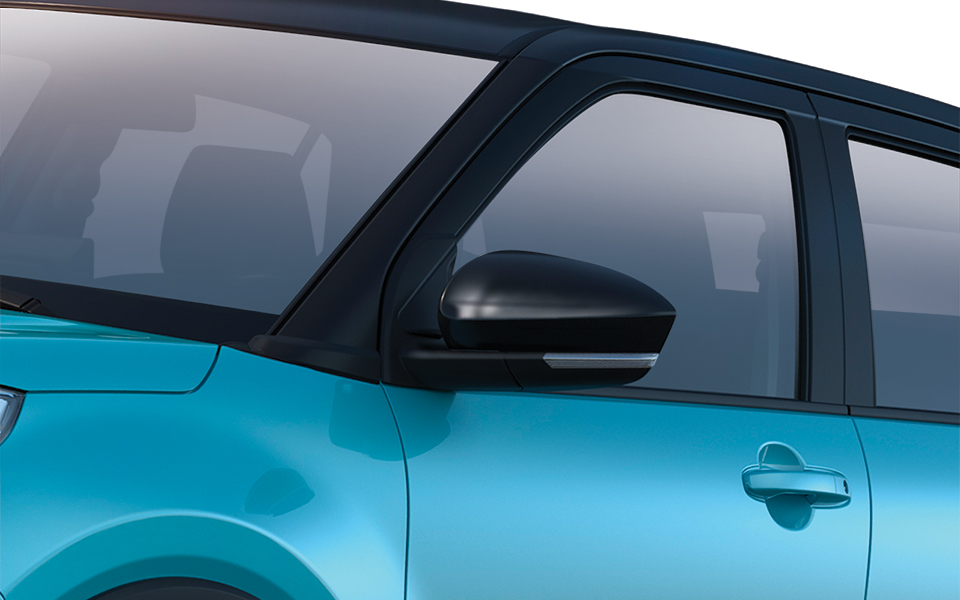 Power Side View Mirrors with Turn Signal Light
Black Color mirrors with Two-Tone Exterior, and Body Color mirrors with Mono-Tone Exterior.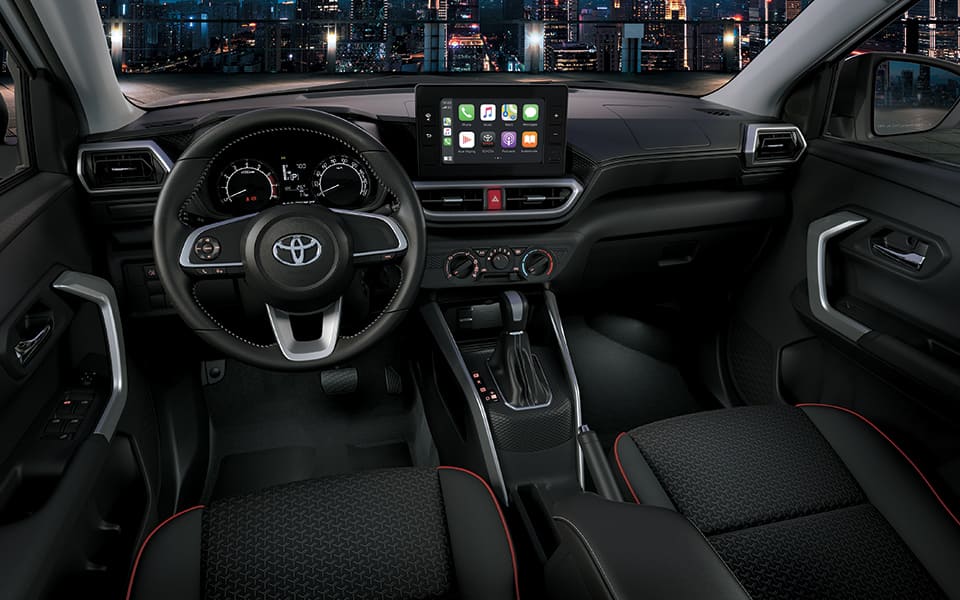 SUV Visibility Wide Forward View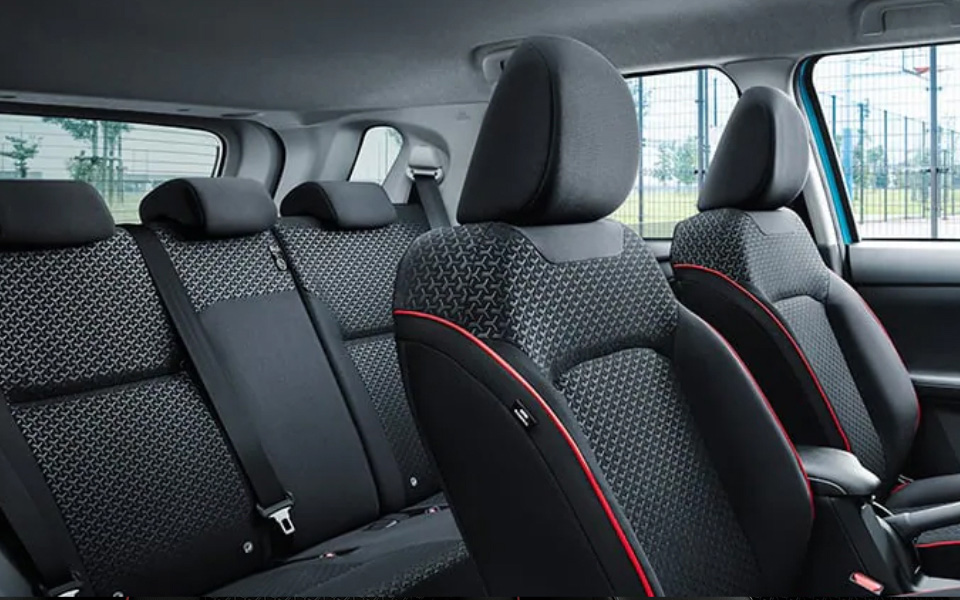 COMFORTABLE SEATS
Designed for comfort, reducing fatigue over long trips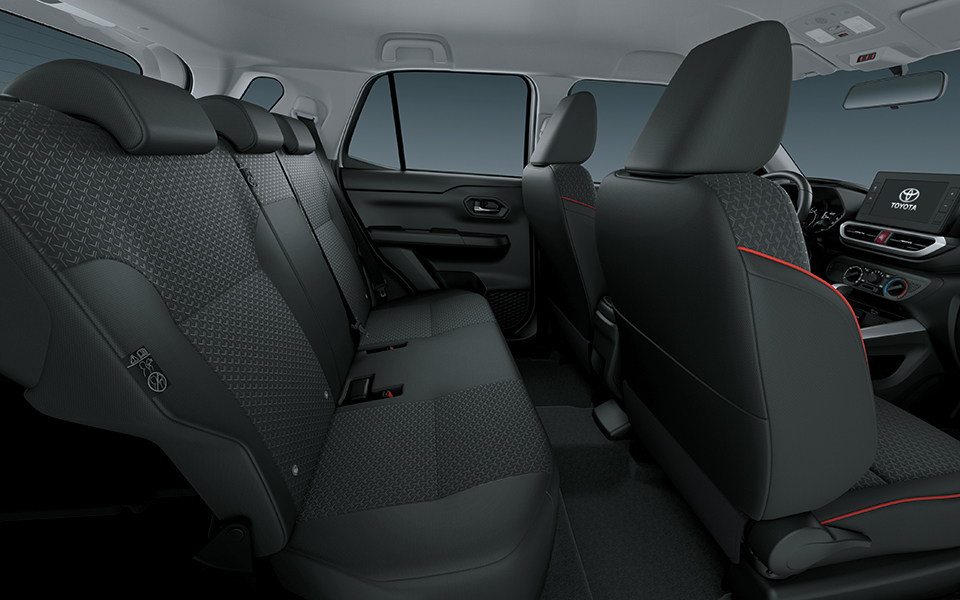 REAR SEATS
Comfortable seating for 3 adults with knee clearance and extra leg room for center passenger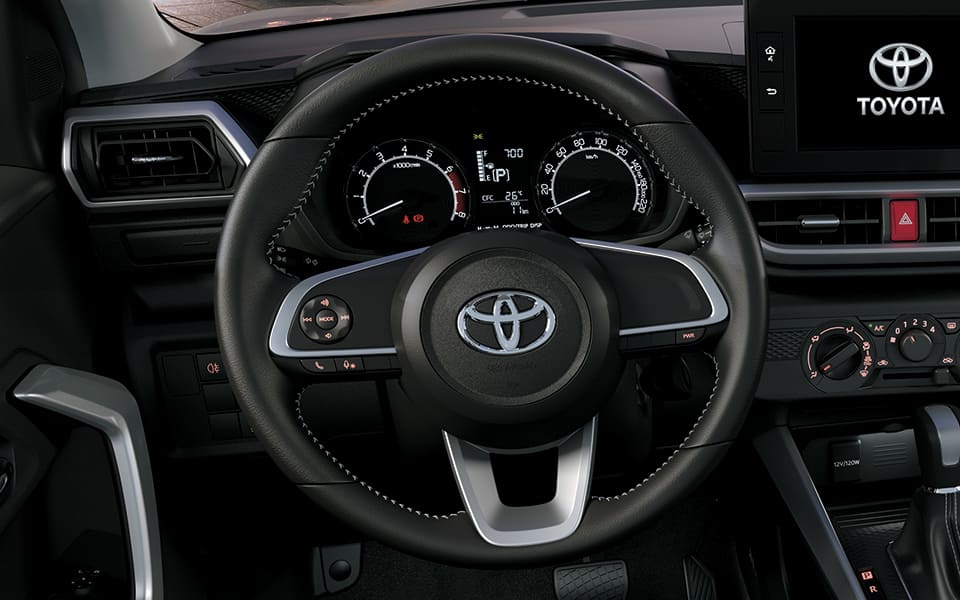 Steering Wheel Controls
The driver can select PWR mode from the steering wheel button for faster acceleration feel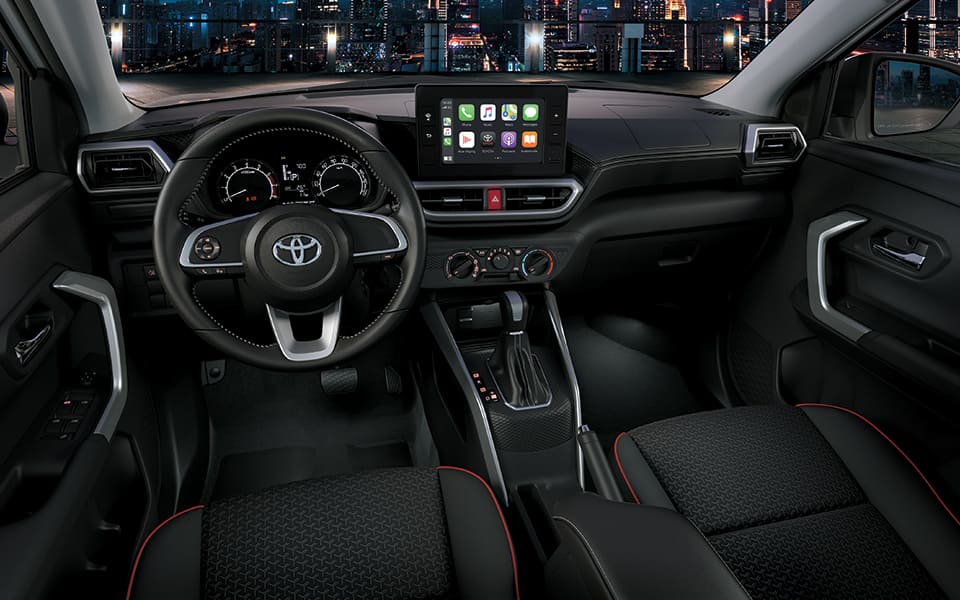 Quality look and feel
Leather Steering Wheel, Shift Lever, and Arm Rest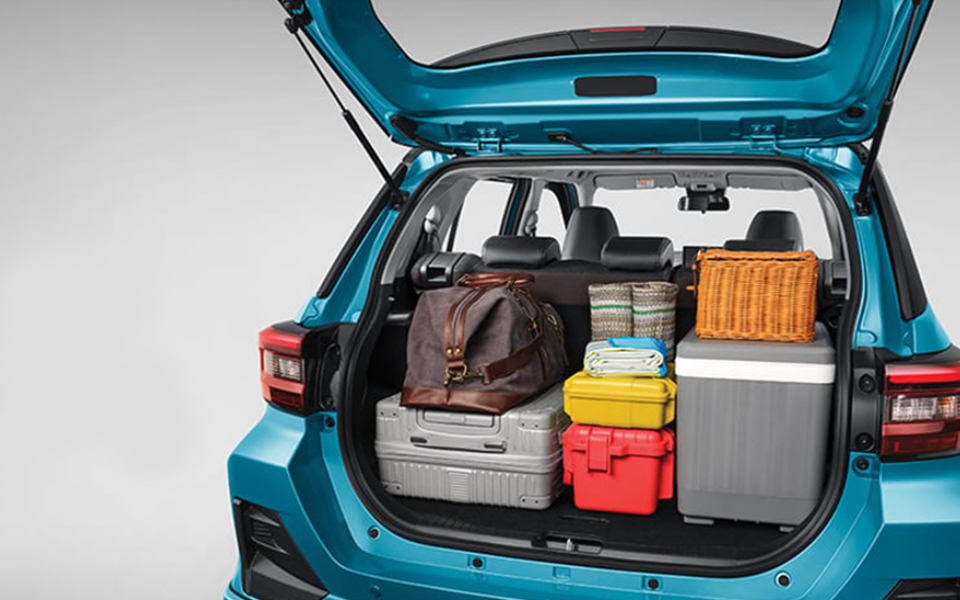 OUTSTANDING LUGGAGE CAPACITY
Generous luggage capacity (369L) fits a variety of daily use items as well as luggage for longer trips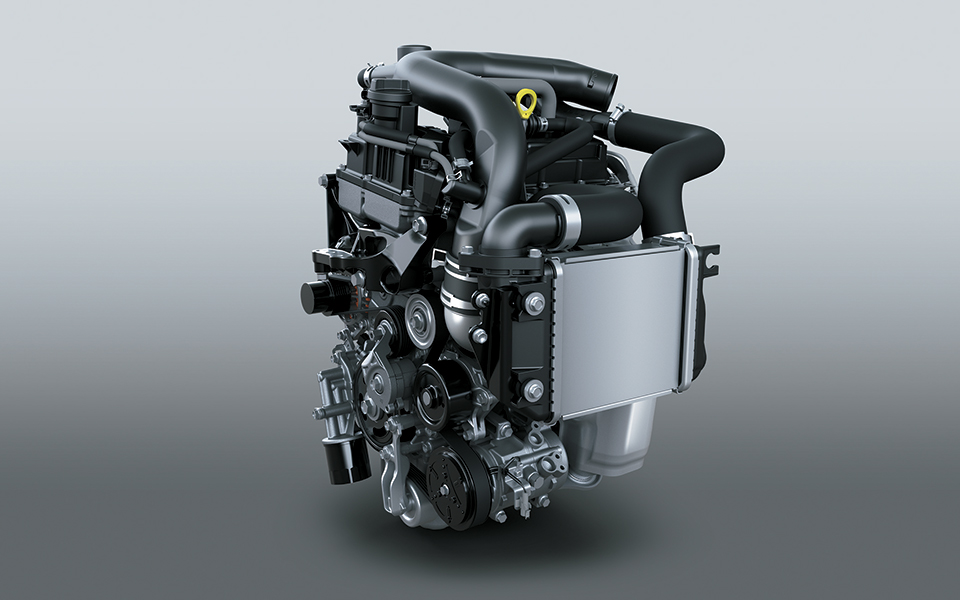 Engine: 1.0L petrol TURBO
97 hp / 6000 rpm 140 Nm / 2400 -4000 rpm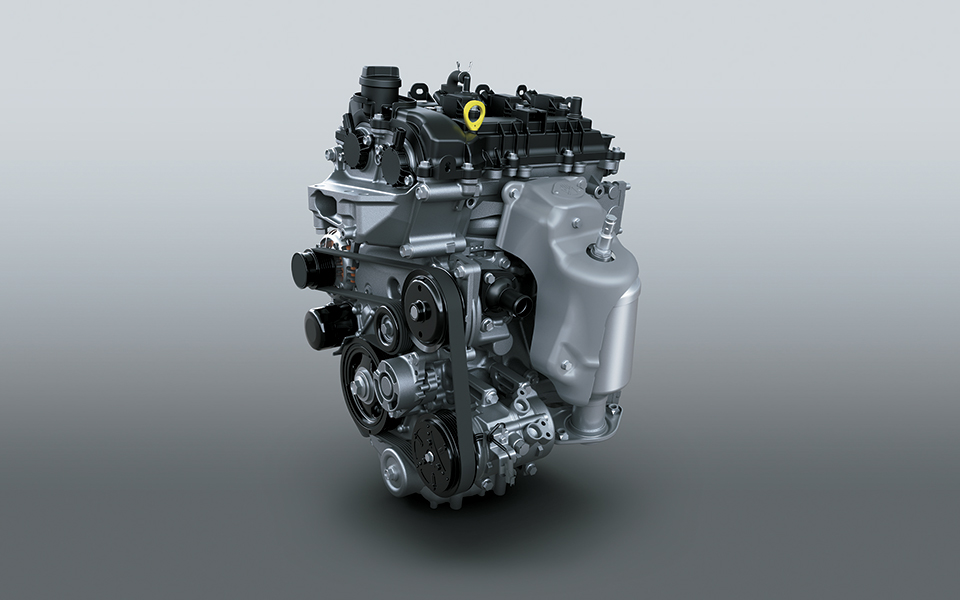 Engine: 1.2L PETROL
87 hp / 6000 rpm 113 Nm / 4500 rpm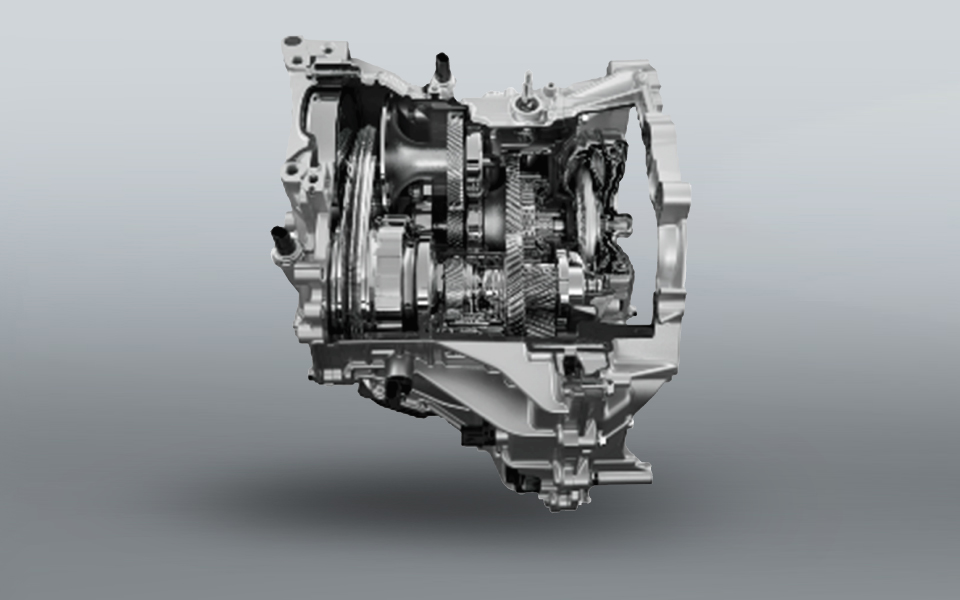 Continuously Variable Transmission (CVT)
Wider gear ratio range and better efficiency Powerful, smooth acceleration at low speed Quiet and efficient at high speed 7-Speed sequential shifting PWR mode for faster acceleration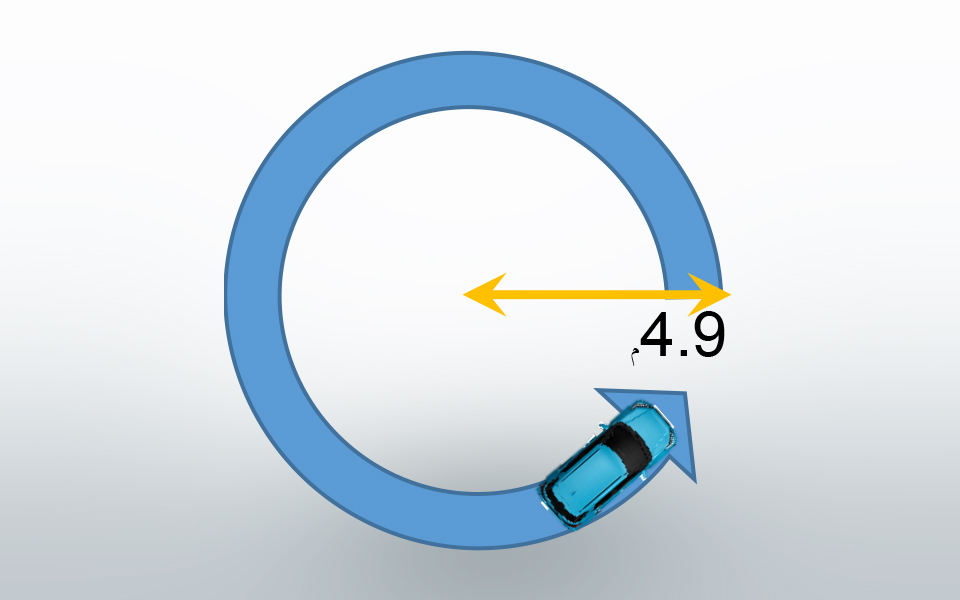 EXCELLENT MANEUVRABILITY
The compact dimensions also ensure a class-leading turning circle, with a radius of 4.9 m (With 16-inch tires) and 5.1 m (With 17-inch tires)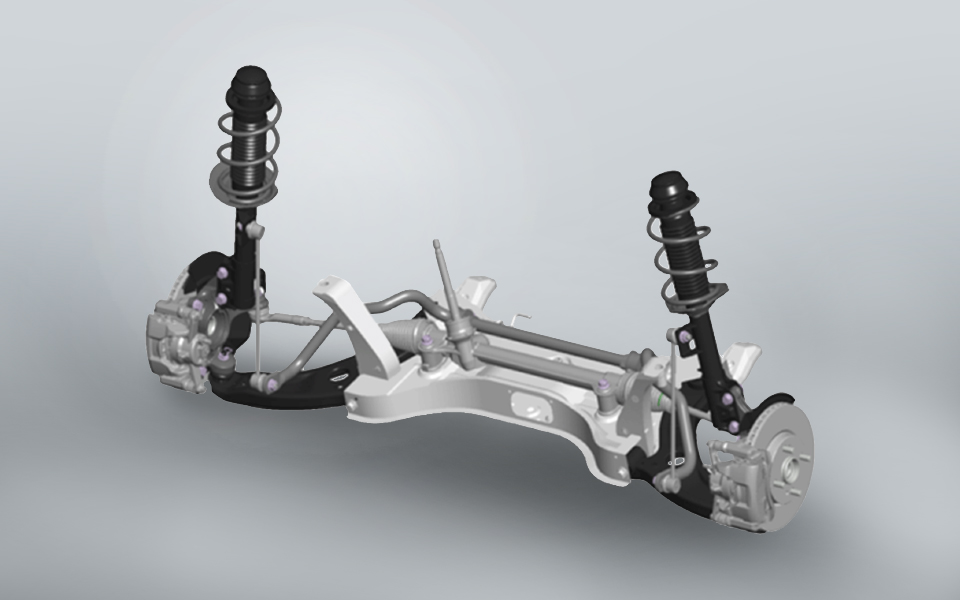 Front Suspension: MACPHERSON
Achieves linear, direct driving dynamics and a comfortable ride. provides excellent maneuverability, ride comfort and steering feel while saving weight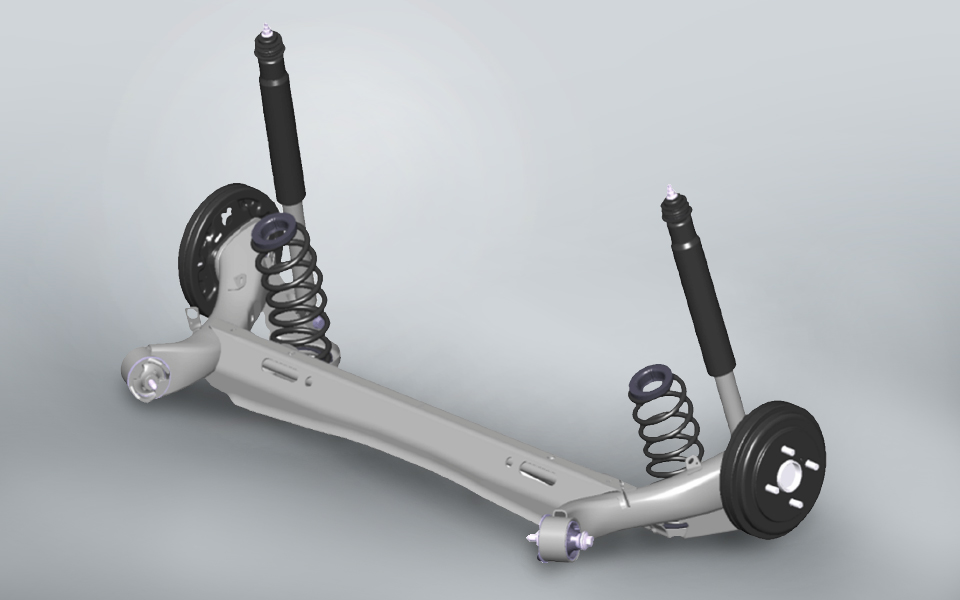 Rear Suspension: TORSION BEAM
The suspension is designed to be lightweight, enhancing the Raize's outstanding fuel economy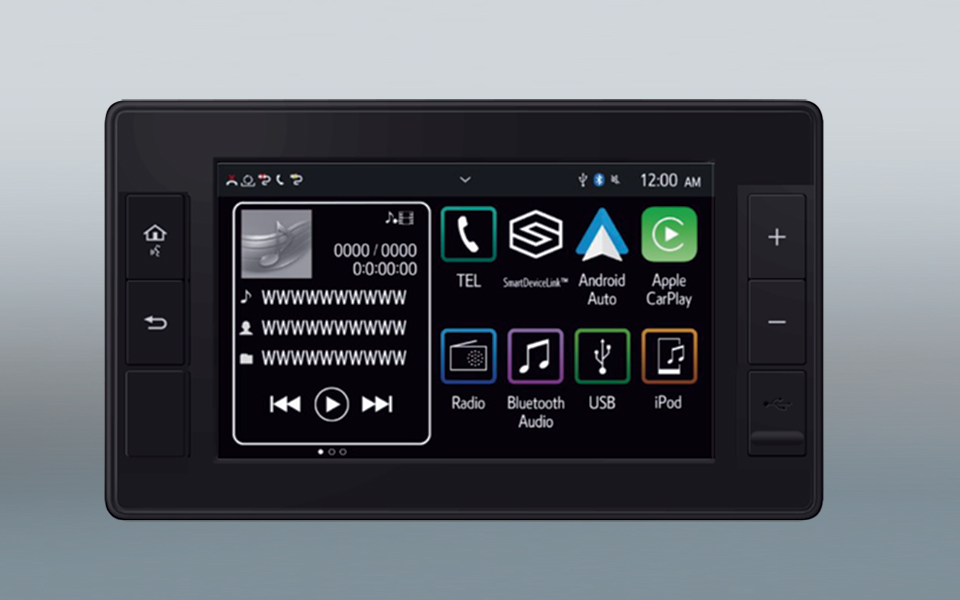 Connected Display Audio (C-DA) with 8 Inch Touch Screen
Available on LIMITED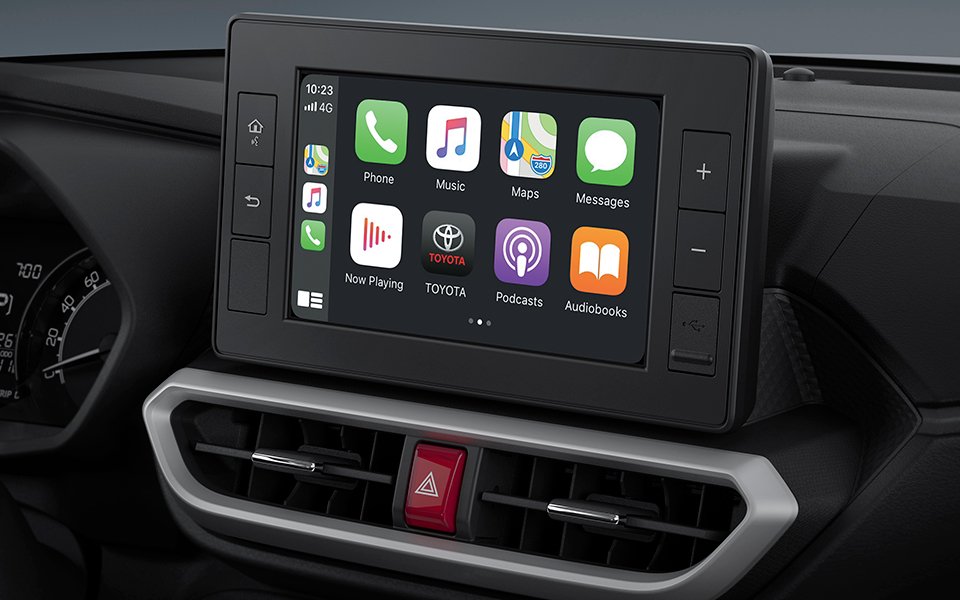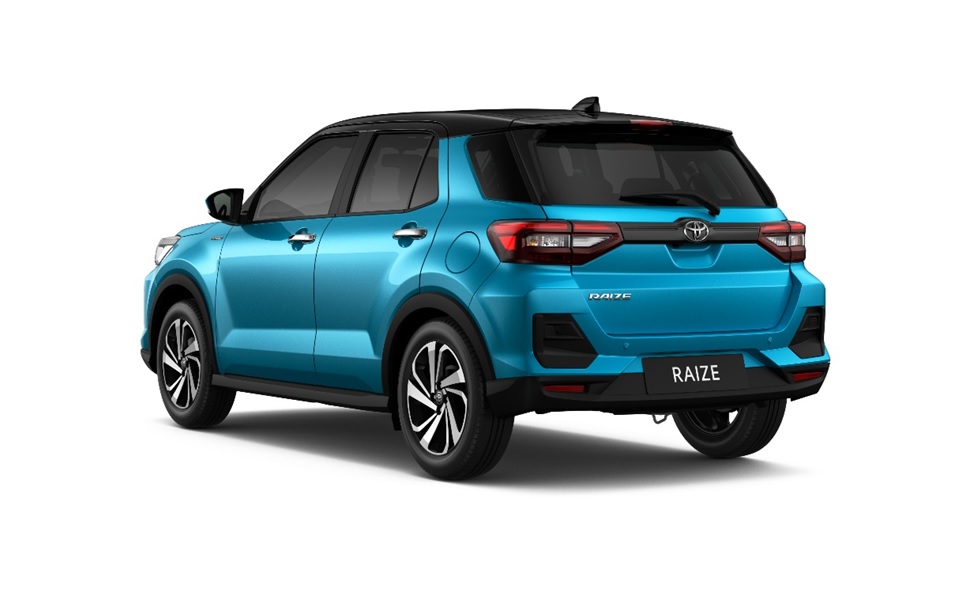 REAR PARKING SENSORS AND REAR CAMERA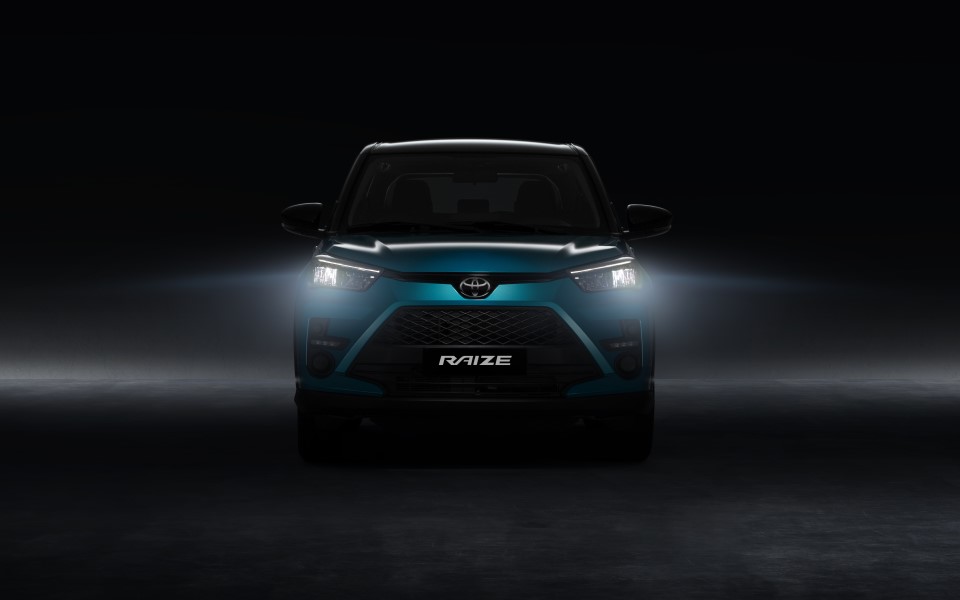 AUTOMATIC HEADLIGHT SYSTEM
Whether you're thinking about buying a family-friendly SUV or a fuel-efficient Hybrid, looking for Genuine Parts or need to service your Toyota, visit one of our centers and let our team help you
Find the nearest Center
All information is based on the latest data available at the time of publication, and is subject to change without notice
Learn More
Abdul Latif Jameel Motors is committed to making your Toyota purchase and ownership experience as satisfying as possible. Let us know how we can help you
How can we help you?