Prado 2022
Features
Great looks and strength in perfect harmony
Handsome lines characterize an SUV designed to suit life in the desert yet feel at home in the elegant surrounds of the city. Prado's purposeful exterior exudes strength that's more than skin deep.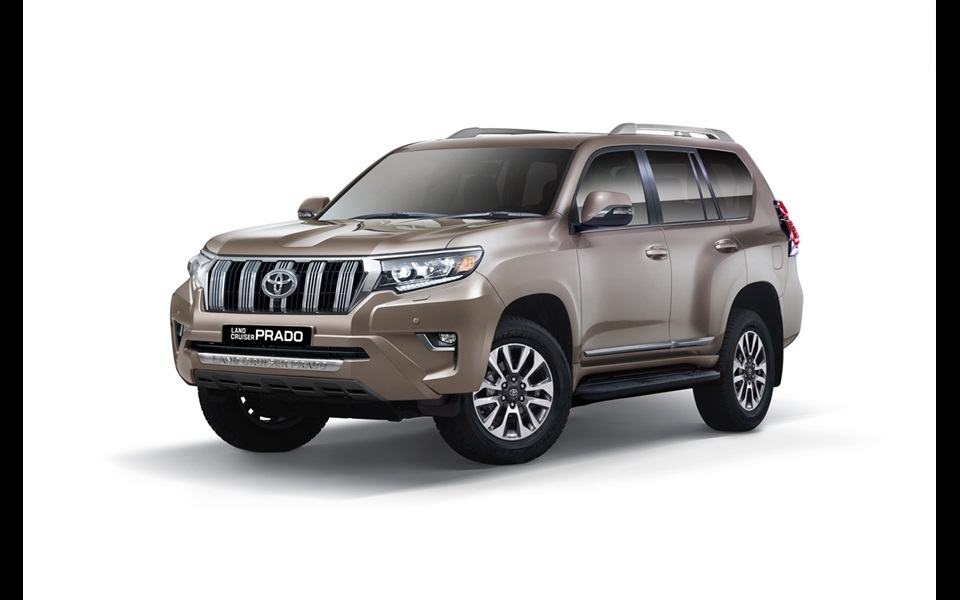 Stylish front chrome grille
Prado always makes a bold entrance. Prado's signature vertical bar chrome front grille makes it instantly recognizable.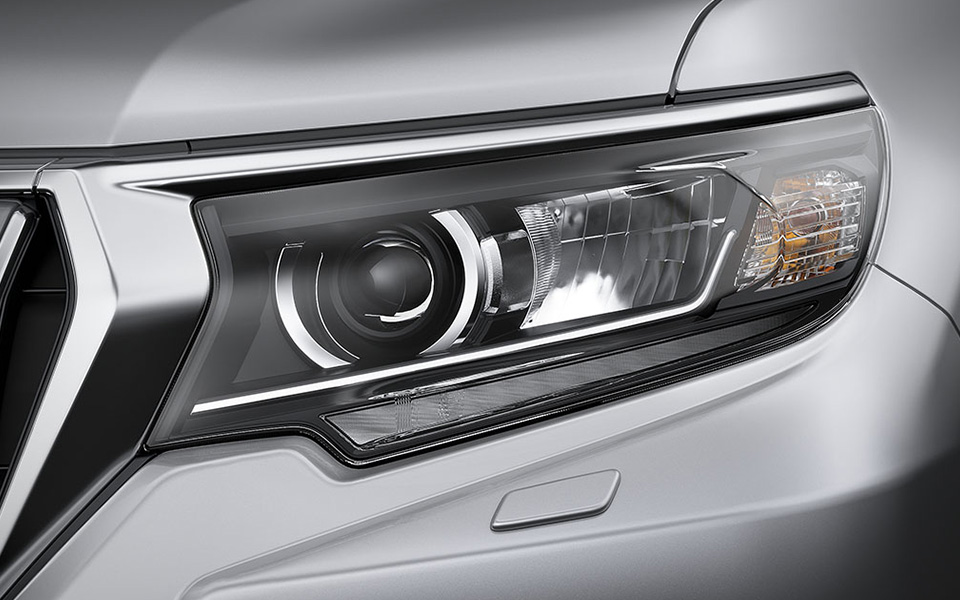 LED headlights and front fog lights
Powerful headlight technology illuminates the road ahead and front fog lights help when the weather takes a turn for the worst. Modern integrated LED daytime running lights (DRLs) make Prado visible to other road users and give a distinctive look.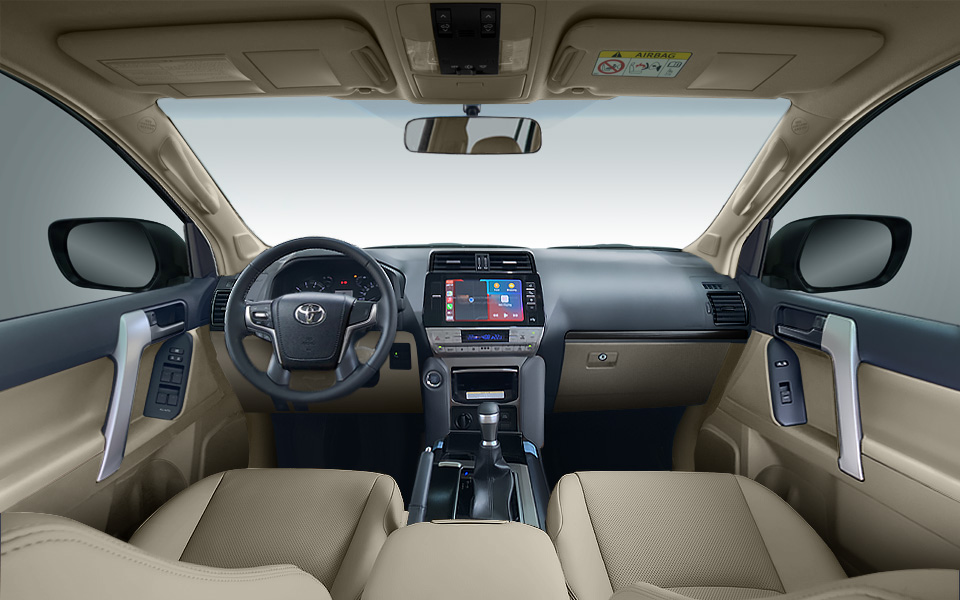 Go-anywhere comfort
Prado gets you to the roughest and remotest places, but that doesn't mean you should have to compromise on comfort to get there. The elegant interior caters for the whole family, with comfortable and spacious seating that's flexible enough to meet your needs. The advanced features found in Prado add extra enjoyment to every trip.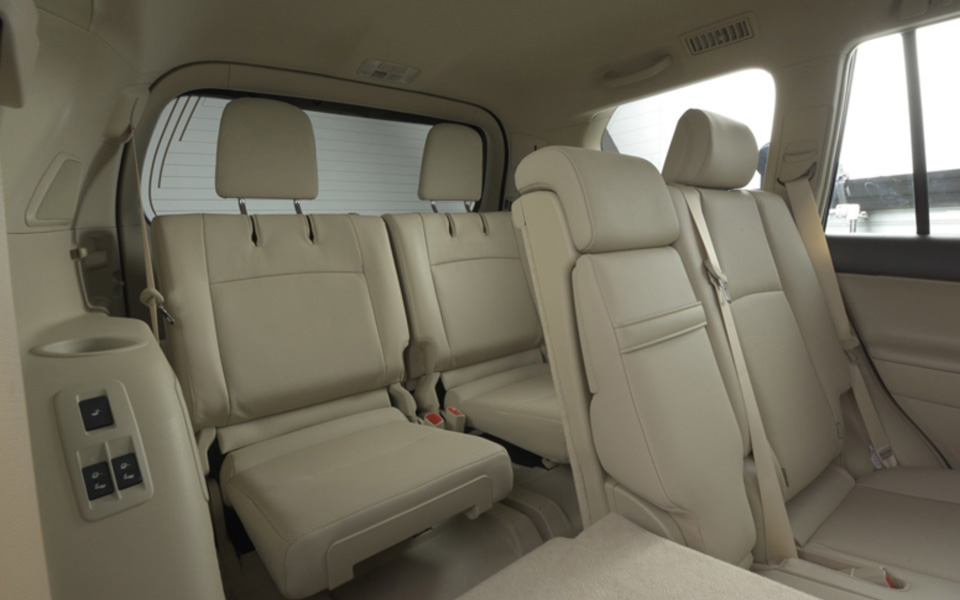 Electrically controlled seating
For your comfort, the front seats have eight handily placed adjustment controls. And for your convenience, the driver's seat has a memory function, too. At the touch of a button, the third row seats fold away into the floor when they're not needed, to give you more luggage space.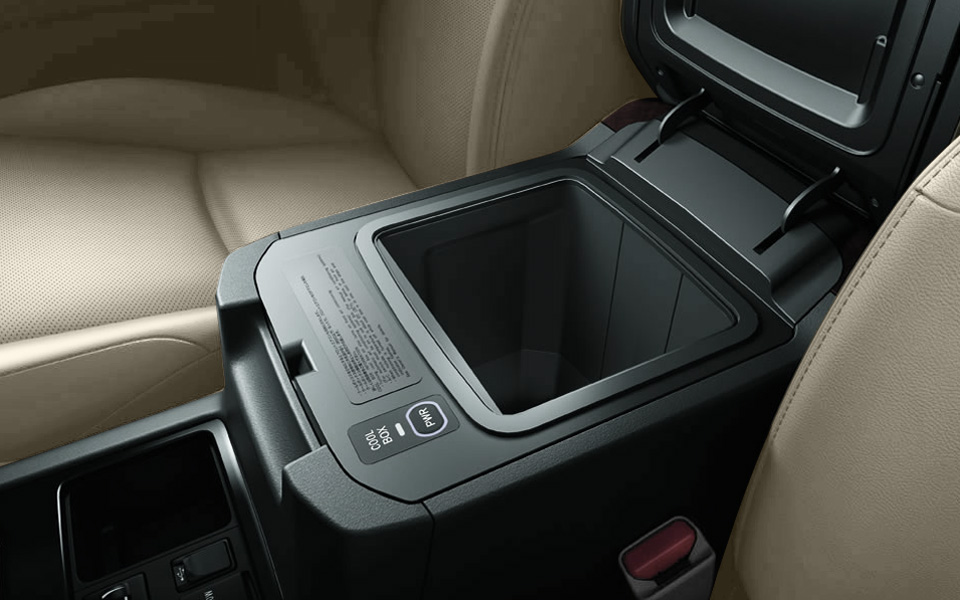 Cool box
Keep your drinks and other items fridge fresh with the high-capacity integrated cool box installed between the front seats.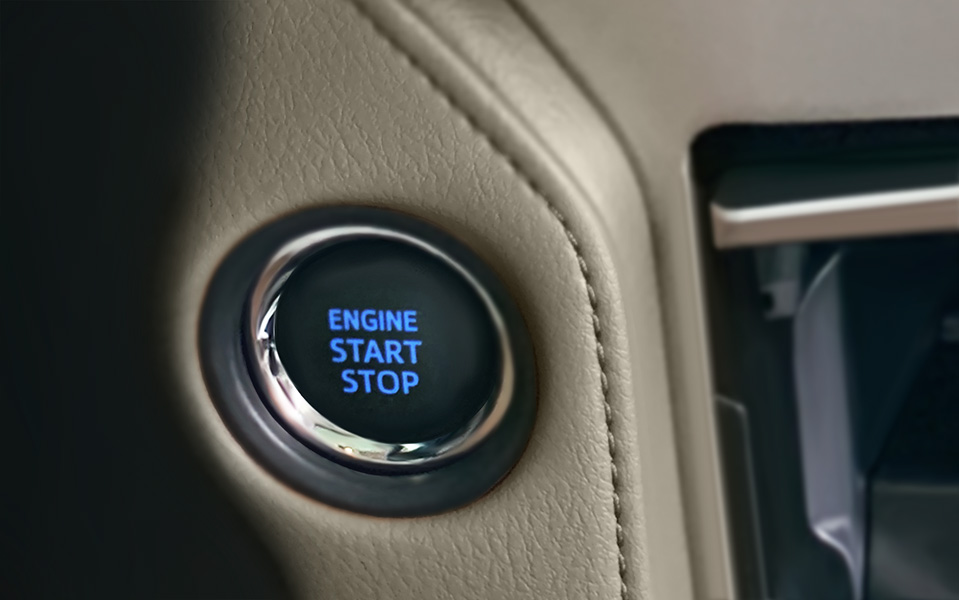 Smart entry system
Prado is fitted with a smart key system, so you can unlock the vehicle with the key still in your pocket. To drive, simply push the start button and you're on your way.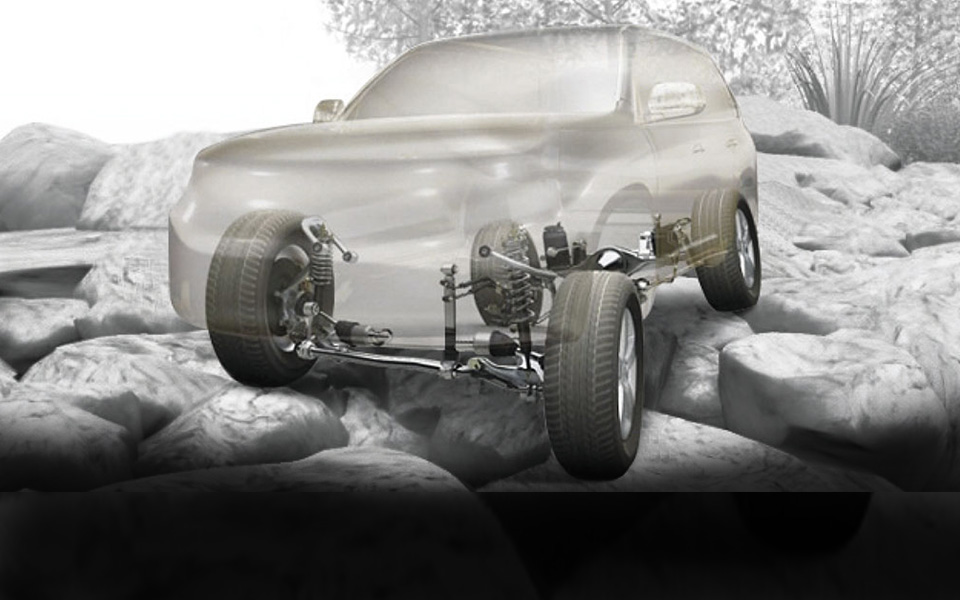 Power and efficiency to conquer any terrain
With a sophisticated steel frame, state-of-the-art permanent 4x4 technology and advanced electronic control systems, Prado carries you to your destination whatever the terrain. Flexible performance is guaranteed with a choice of engines and transmissions, all optimized to get you to your destination efficiently and comfortably.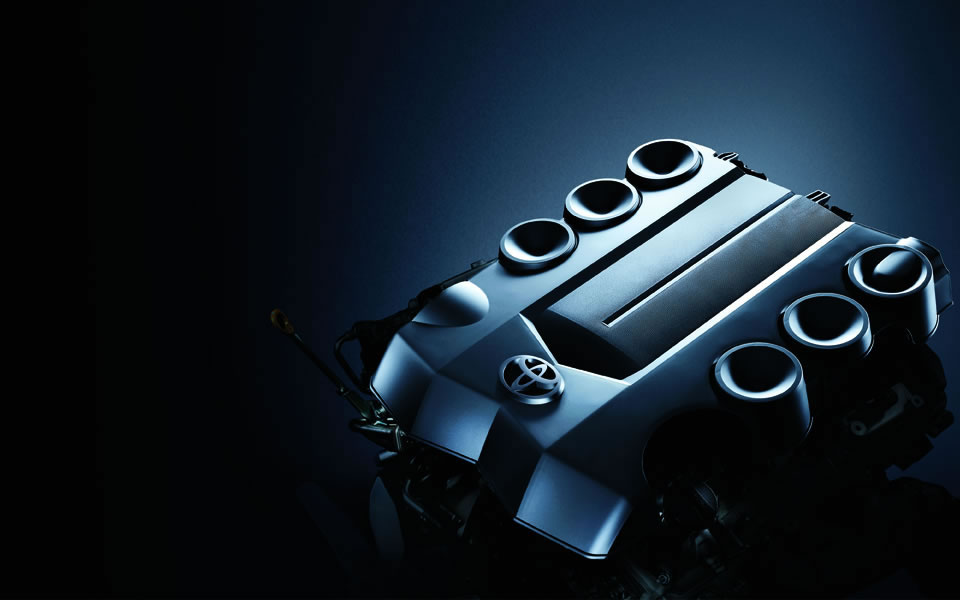 Engine performance
Choose between a gasoline 2.7 liter four-cylinder or 4.0 liter, six-cylinder engine or a Diesel 2.8 liter four-cylinder.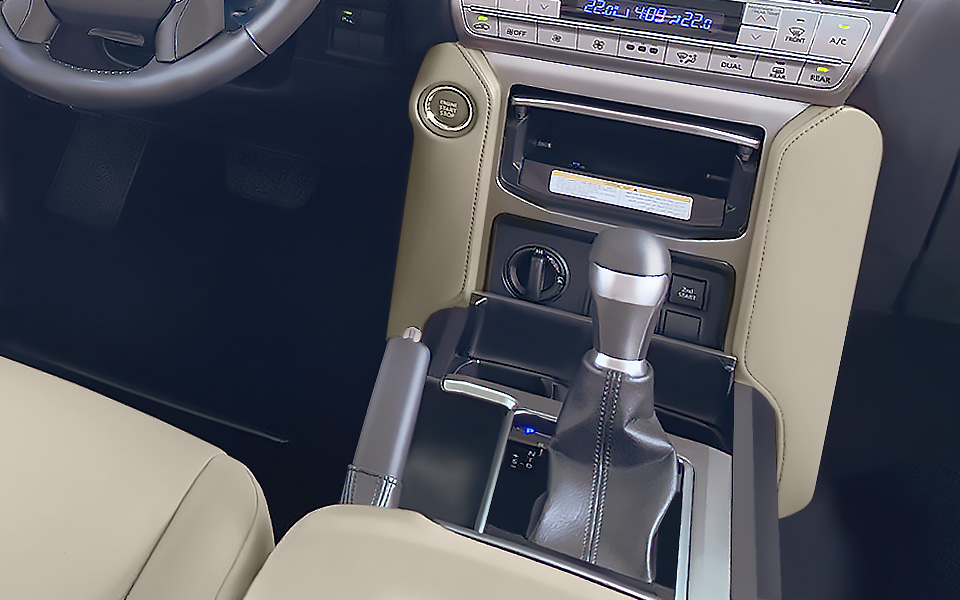 Transmissions
Smooth-shifting six-speed. With either you're assured of off-road traction and extra cornering stability provided by the standard permanent 4x4 drive-train.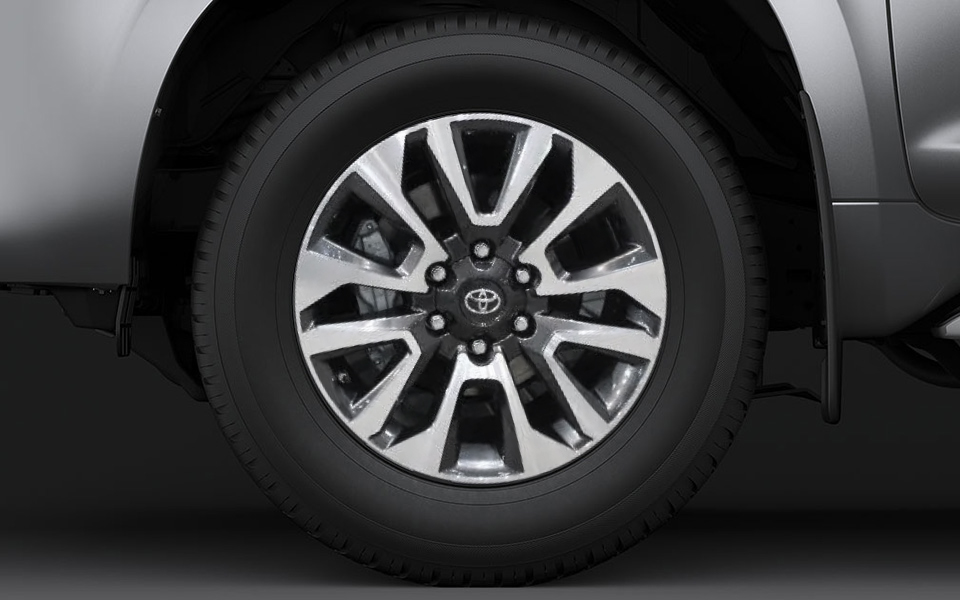 19-inch aluminum wheels
As well as giving Prado a contemporary and commanding appearance, the large, stylish wheels improve the cornering, grip and off-road stability.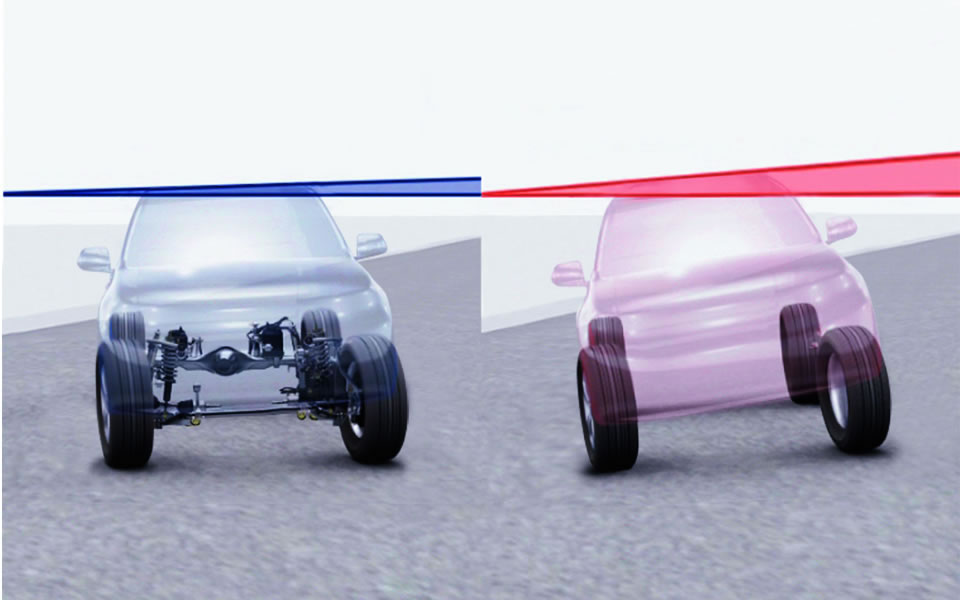 Kinetic Dynamic Suspension System (KDSS)
Prado VX is fitted with KDSS, Toyota's advanced suspension control technology. On the road it provides increased traction and minimizes body roll. Off-road it allows greater wheel articulation and delivers traction to all four wheels individually.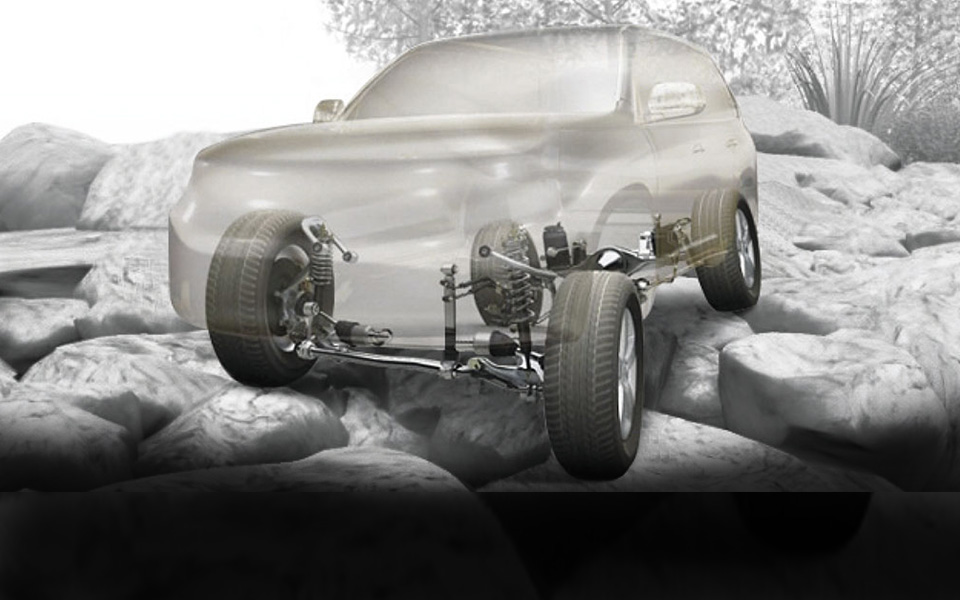 Suspension
Front and rear suspension is fitted with coil springs that increase contact between the wheels and the road surface and provide stability when cornering. Advanced shock absorbers control primary and secondary ride comfort, providing great body control and stability.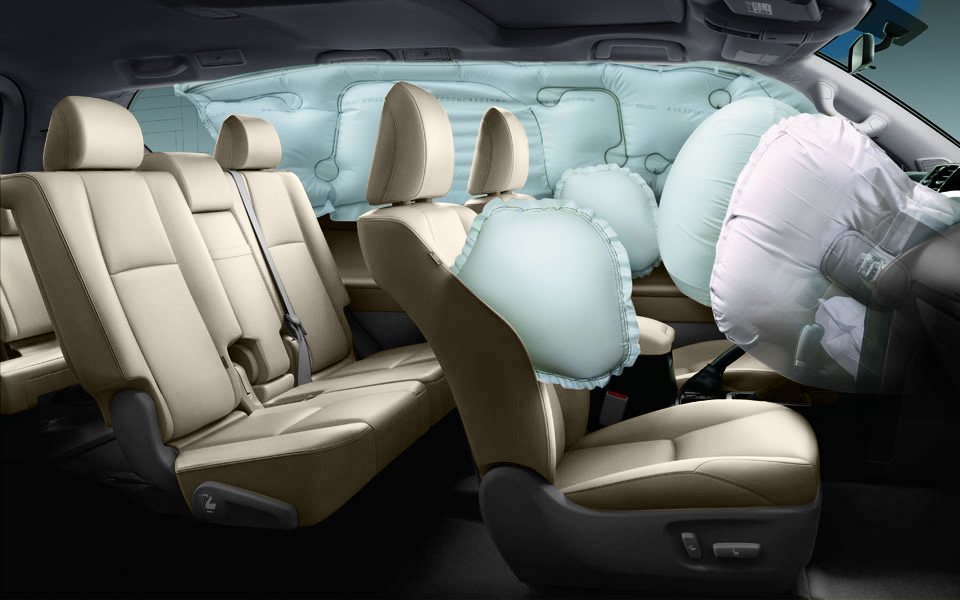 Supplementary Restraint System (SRS) Airbags
To reduce the severity of impacts, SRS airbags protect all three rows of seats. Front driver and passenger, driver knee, side and side rear curtain air bags are all available in the range. For your safety, you should always wear a seat belt when travelling in a moving vehicle.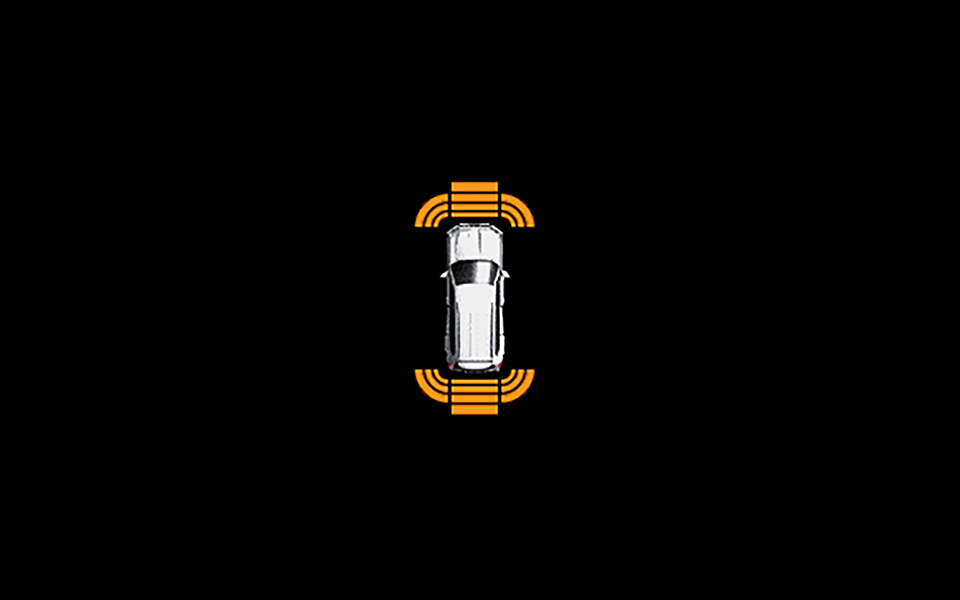 Front and rear parking sensors
To alert you to unseen obstacles in front or behind, the front and rear sensors provide audible and visual warnings whenever you are performing slow-speed maneuvers.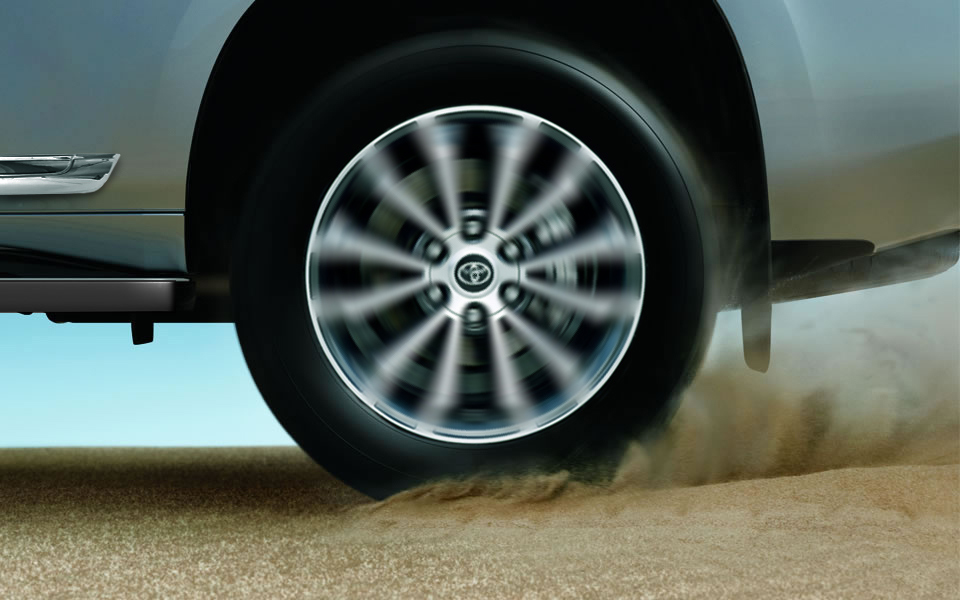 Active Traction Control System (A-TRC)
Enjoy getting the power to the ground. The A-TRC system helps prevent wheel slip by reducing engine power to the wheels with the least traction.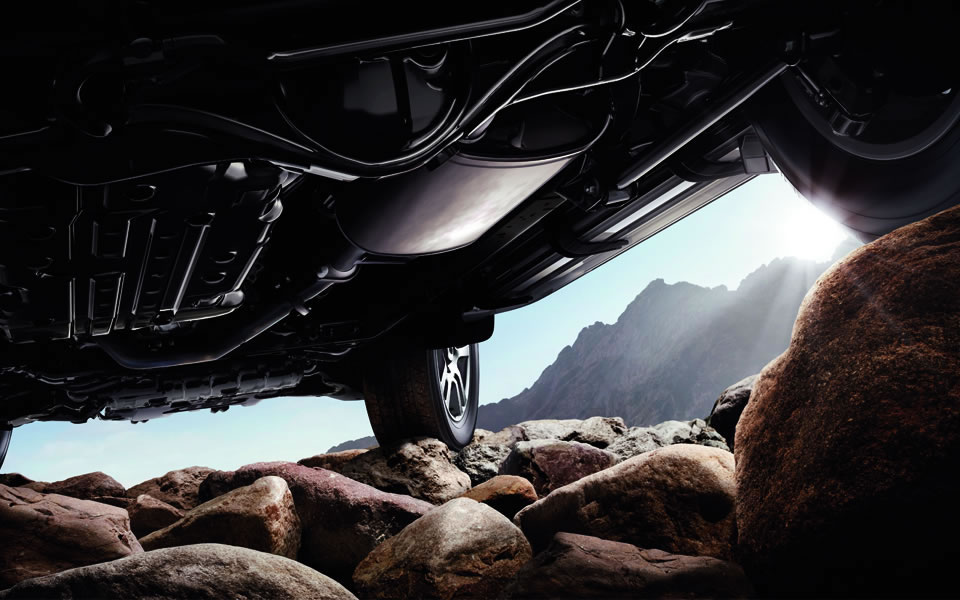 Make progress with confidence
Comprehensive safety systems are designed to deal with every eventuality. Driver and passengers are protected by Supplementary Restraint System (SRS) airbags fitted throughout Prado. Stability control, anti-lock brakes (ABS) with Electronic Brake-force Distribution (EBD)will give you a helping hand whatever surprises the road ahead has in store.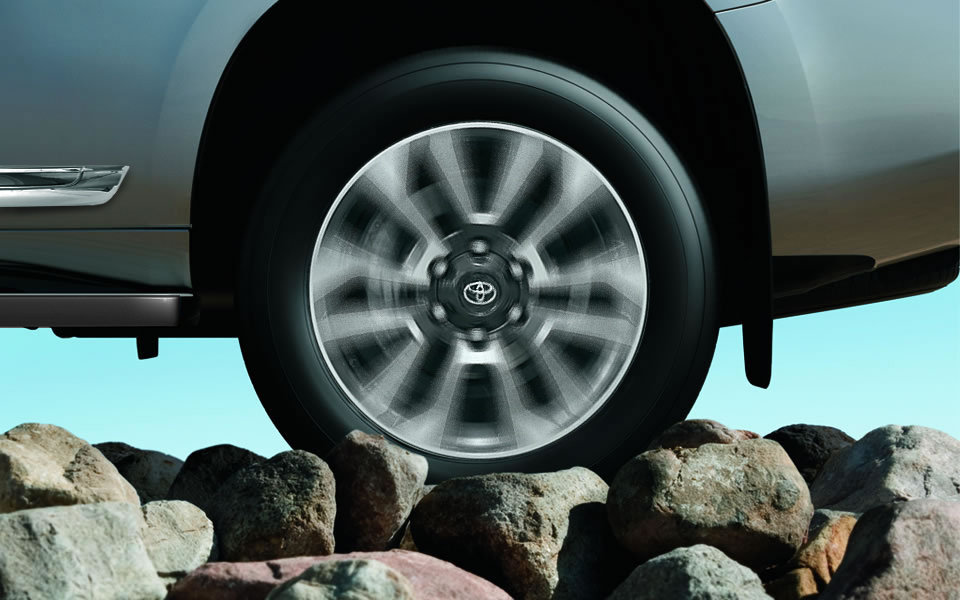 Active Traction Control System (A-TRC)
Enjoy getting the power to the ground. The A-TRC system helps prevent wheel slip by reducing engine power to the wheels with the least traction.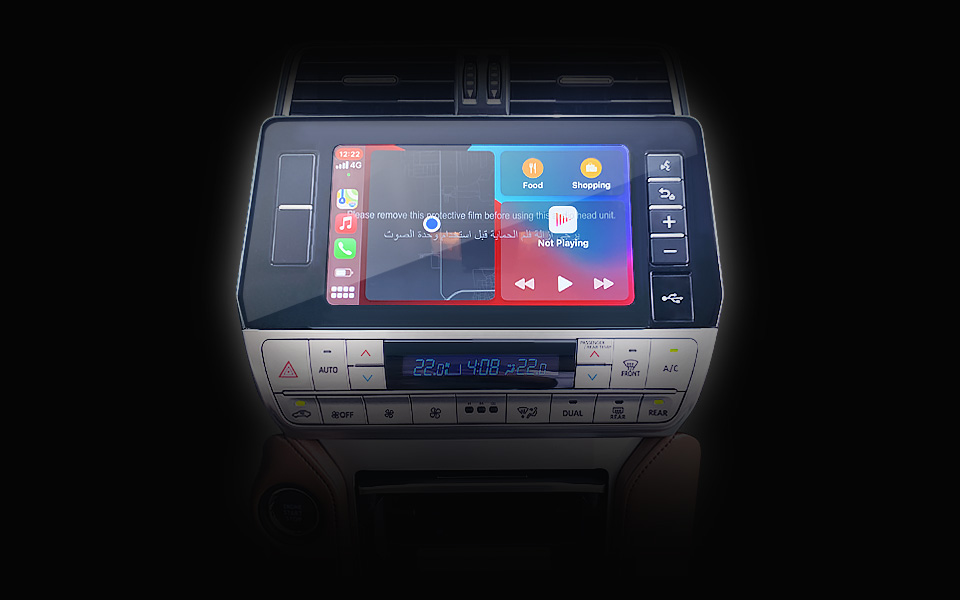 Touchscreen audio controls
Control a plethora of audio options using a high-definition touchscreen. and enjoy the highest quality in-car audio experience.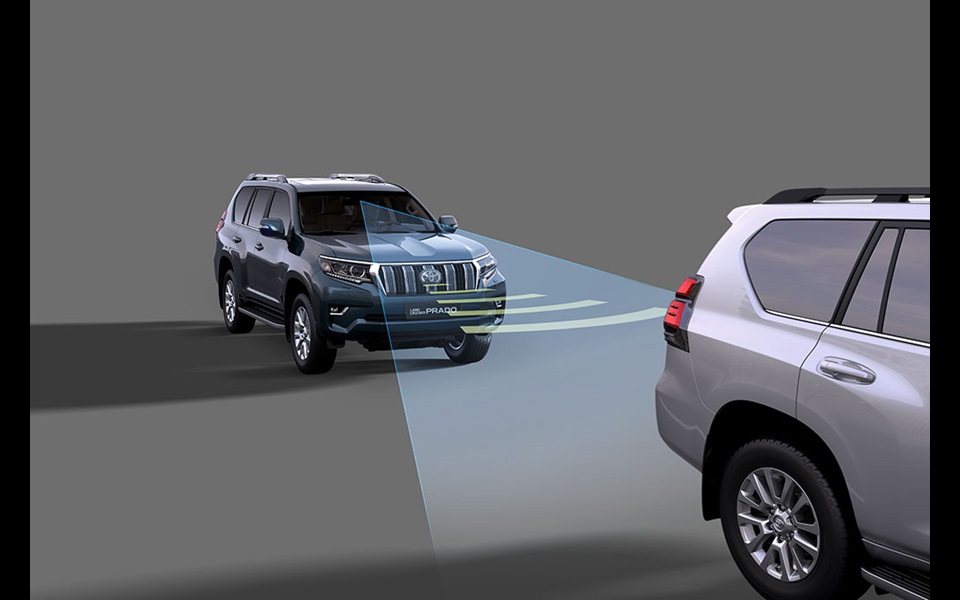 Cutting-edge Safety Technology
Advanced active and passive safety technology to elevate the customer's peace of mind.
Whether you're thinking about buying a family-friendly SUV or a fuel-efficient Hybrid, looking for Genuine Parts or need to service your Toyota, visit one of our centers and let our team help you
Find the nearest Center
All information is based on the latest data available at the time of publication, and is subject to change without notice
Learn More
Abdul Latif Jameel Motors is committed to making your Toyota purchase and ownership experience as satisfying as possible. Let us know how we can help you
How can we help you?