FJ Cruiser 2023
Features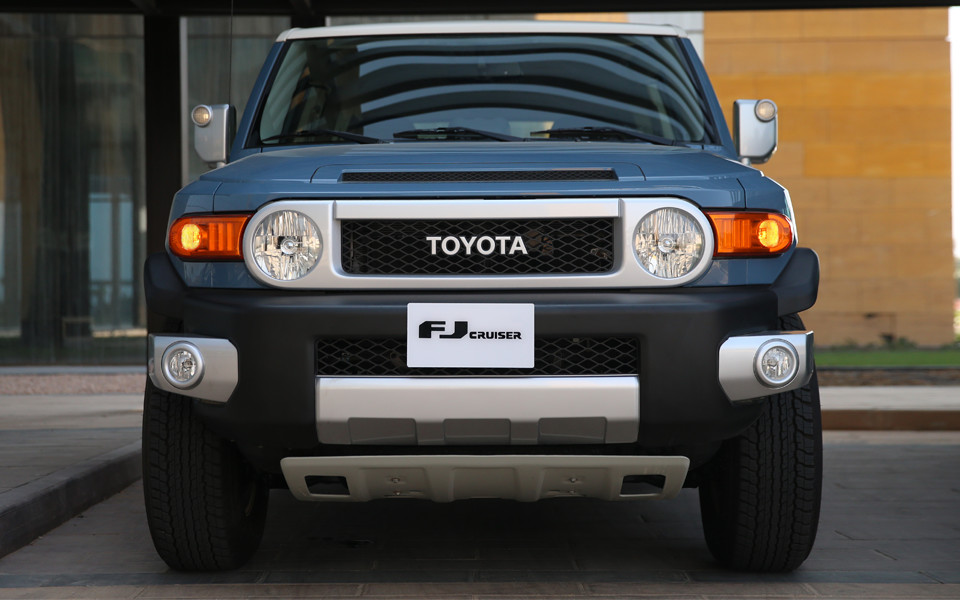 Strong bumpers
The bumpers are built to withstand the impact of off-road shocks and are mounted high for maximum clearance, reinforcing the strong appearance and performance of the FJ Cruiser.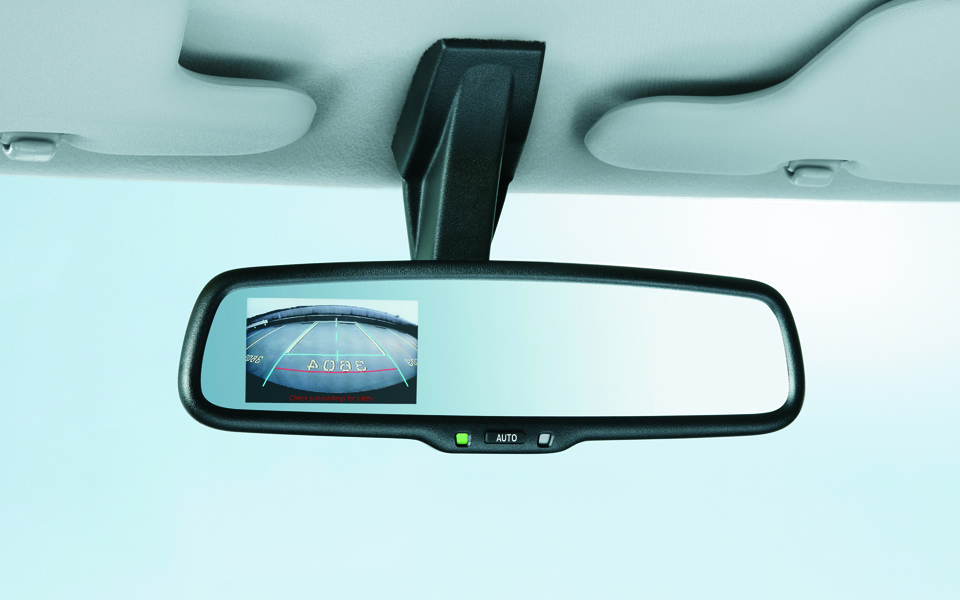 Reversing Camera
The integrated camera provides a clear view of obstacles behind you, allowing safe and incident free reversing maneuvers.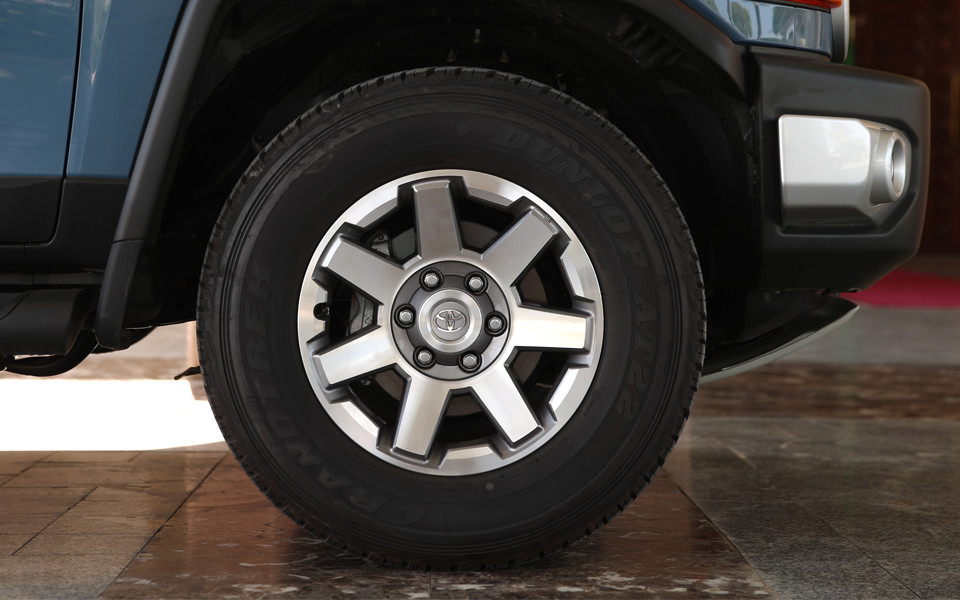 17-Inch Aluminum wheels
Large aluminum wheels help give the FJ Cruiser its distinctive look but they're lightweight and durable too, ideal for on- and off-road adventuring.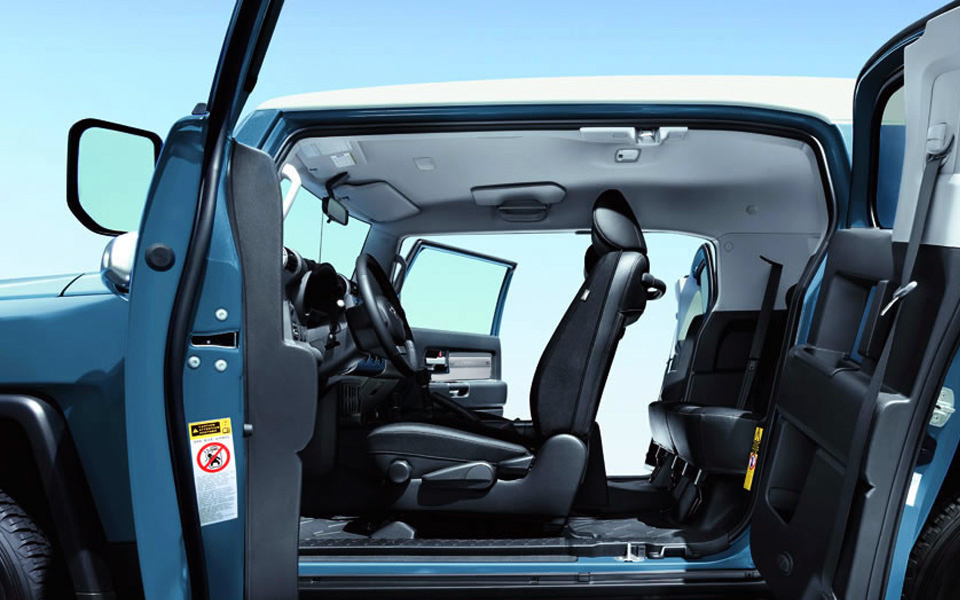 Rear access doors
A signature feature of the FJ Cruiser is its rear access door design that provides wide and easy access to the rear of the FJ Cruiser. It's a rarely found feature that provides both practicality and a talking point.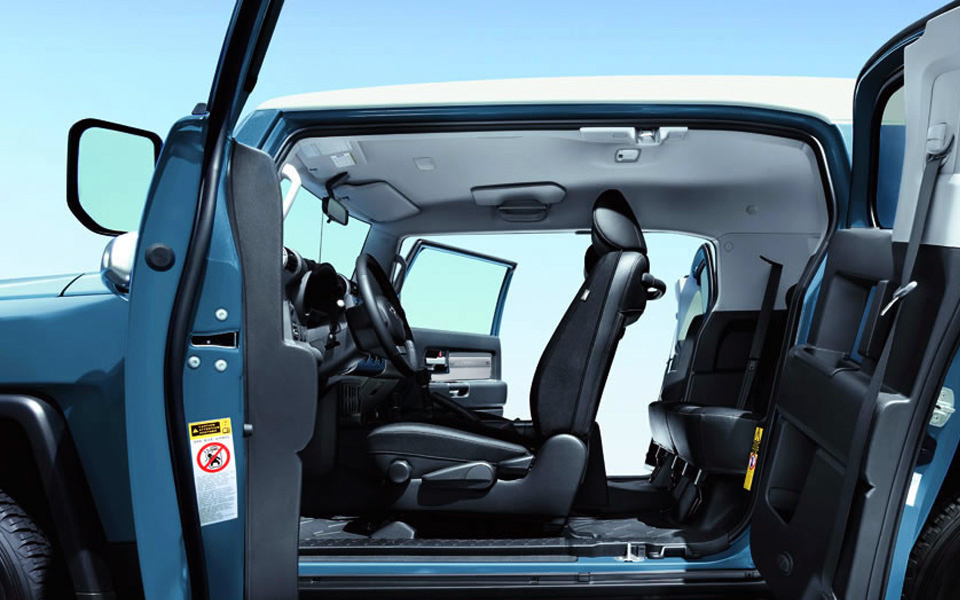 Inner space
The spacious interior is practical enough for any adventure. Comfortable and easy to use, chunky and purposeful controls are consistent with the exterior styling, as is the dashboard color. It's functional too, with rear seats that fold, so you can accommodate large loads.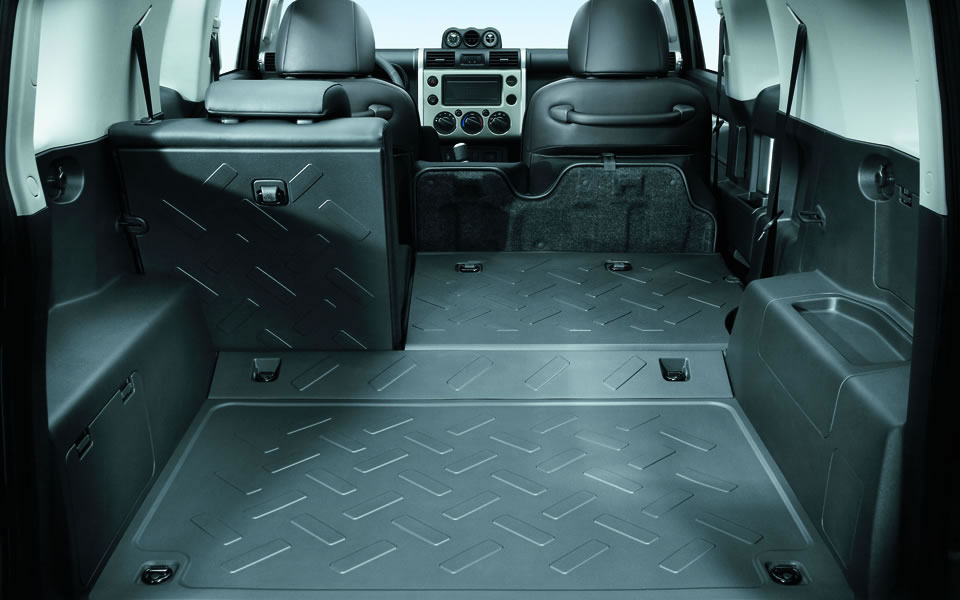 Strong materials throughout
Durability and toughness are FJ Cruiser hallmarks. Robust but comfortable materials such as rubber flooring ensure FJ Cruiser scrubs up like new, no matter how dirty it gets.
More control
The FJ Cruiser's comfortable, leather clad steering wheel hosts a wide range of functionality. Audio, Bluetooth telephone and cruise control functions are all just the swipe of a finger away.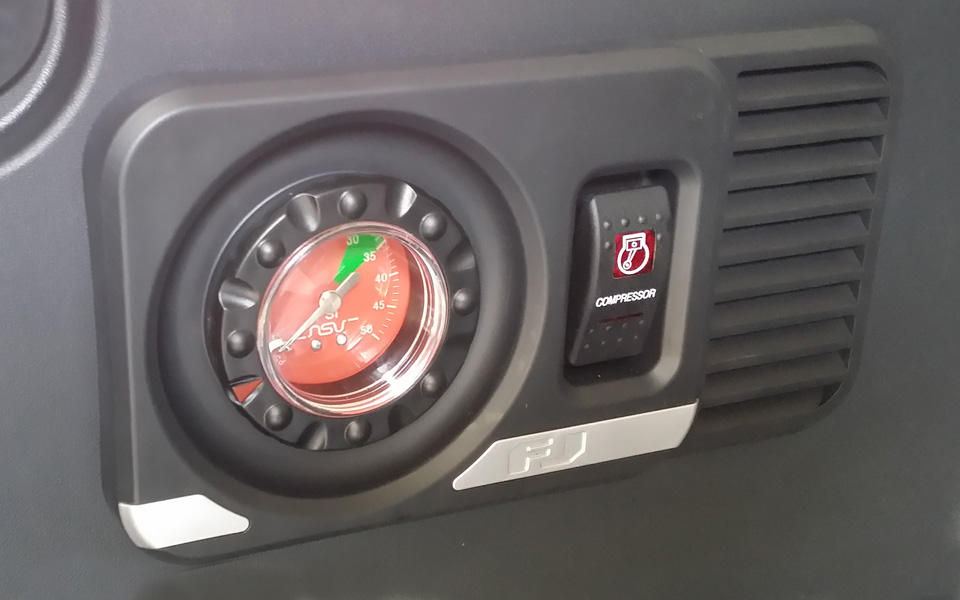 Built in Tire Inflator
The vehicle is equipped with an automatic tire infiltrator to fulfill your off-roading needs.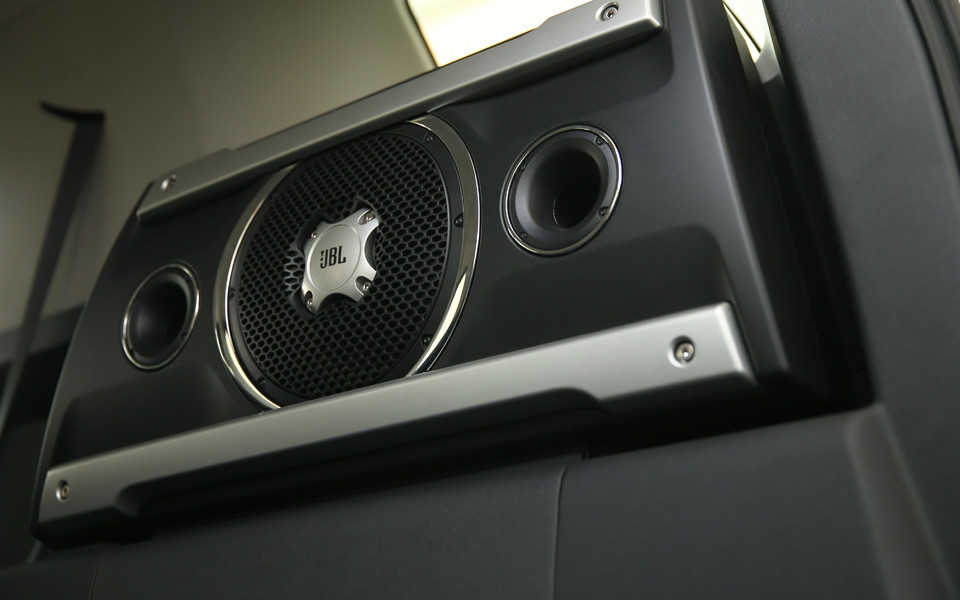 Audio system
Surround yourself with sound with a powerful 10-speaker JBL audio system. Featuring an integrated sub-woofer for added bass, the system offers an AM/FM radio, CD player and USB and AUX inputs for your own digital music player.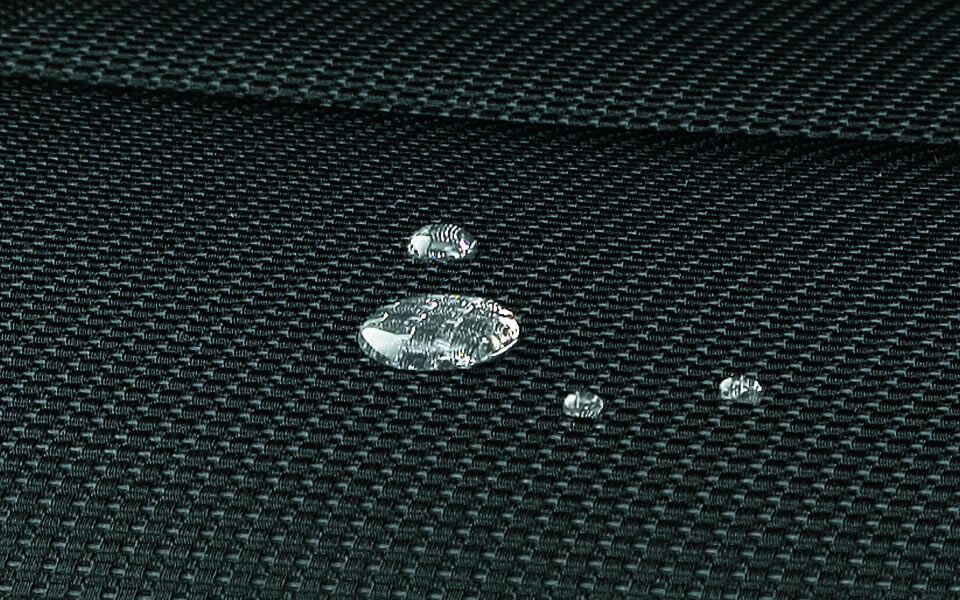 Stylish, water-resistant sports seats
No need to wrap your FJ Cruiser up in cotton wool. Special dirt- and water-repellent seat material helps the FJ Cruiser upholstery shrug off all evidence of even the most spirited journeys. The sports seat design helps grip you firmly in place and ensures you travel in superior comfort.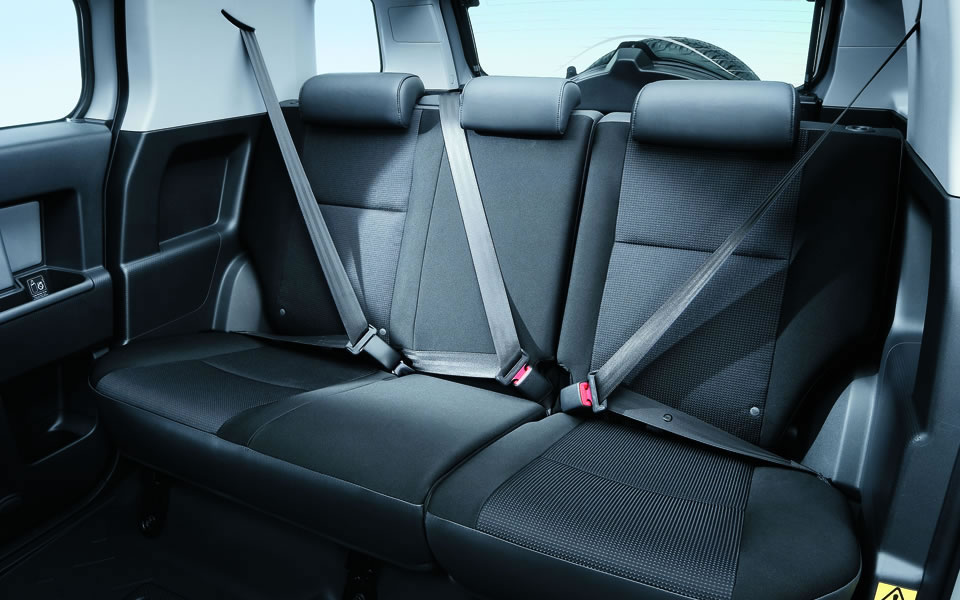 Comfort and capacity
Stash what you need in storage compartments throughout the interior. If you need it to, FJ Cruiser can almost convert into a small van. Make room for really large items by folding or completely removing the rear seats – all accessed through the conveniently wide rear or side doors.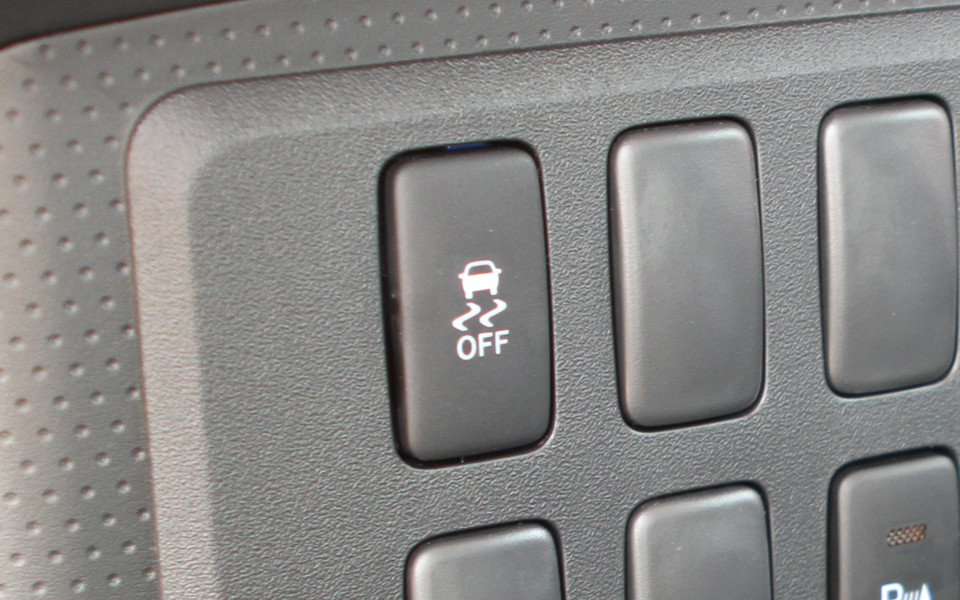 Superior control
The switchable Vehicle Stability Control (VSC) system works to seamlessly prevent deviation from your chosen course by automatically controlling the braking and engine power applied to each wheel.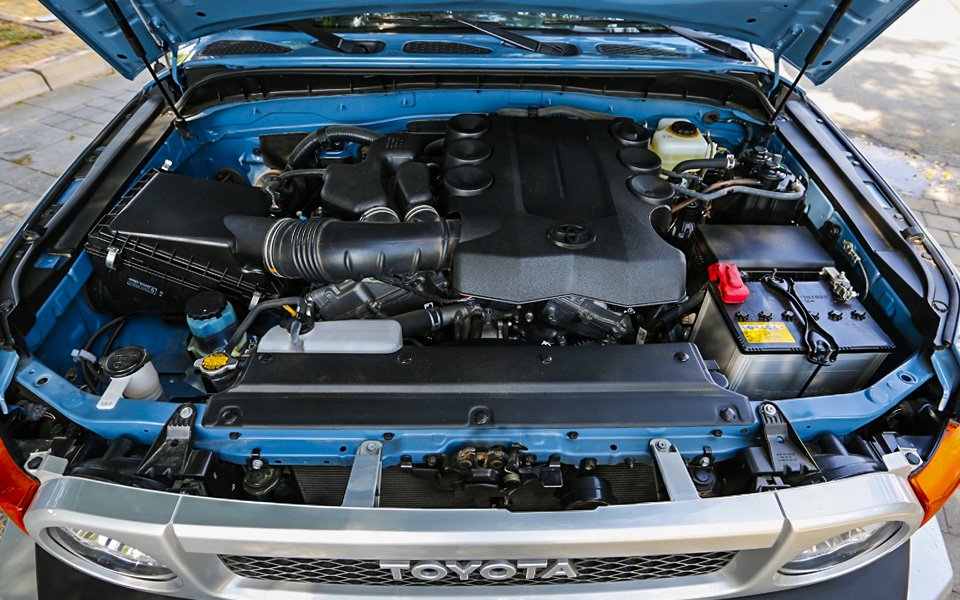 Powerful engine
The 4.0 liter, six-cylinder engine delivers 268 horsepower, yet Toyota's efficient design takes care of fuel economy whatever you're doing.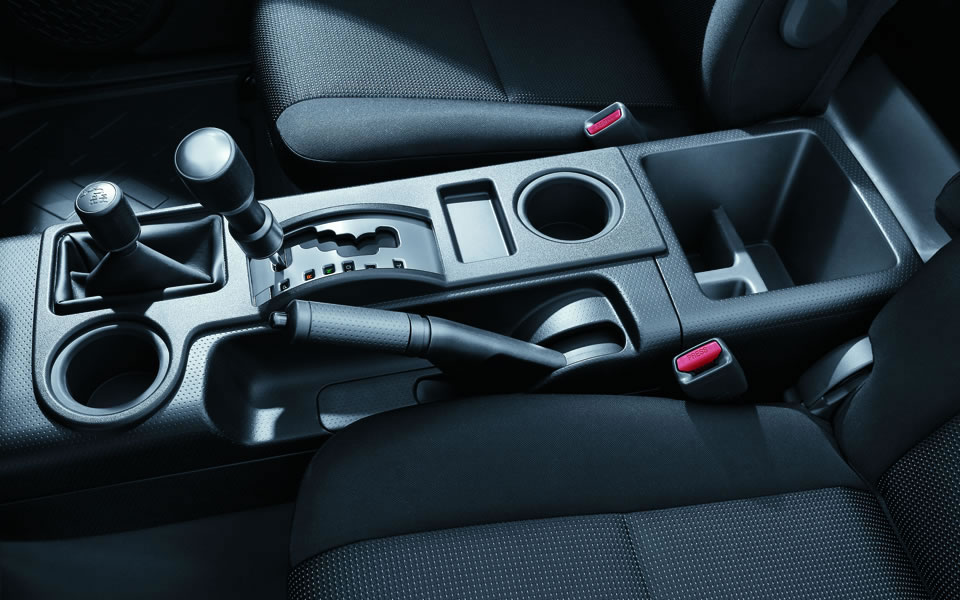 Six-speed manual and five-speed automatic
Enjoy an abundance of engine torque for off-road driving, whether you choose the slick-shifting six-speed manual transmission or five-speed electronically controlled automatic.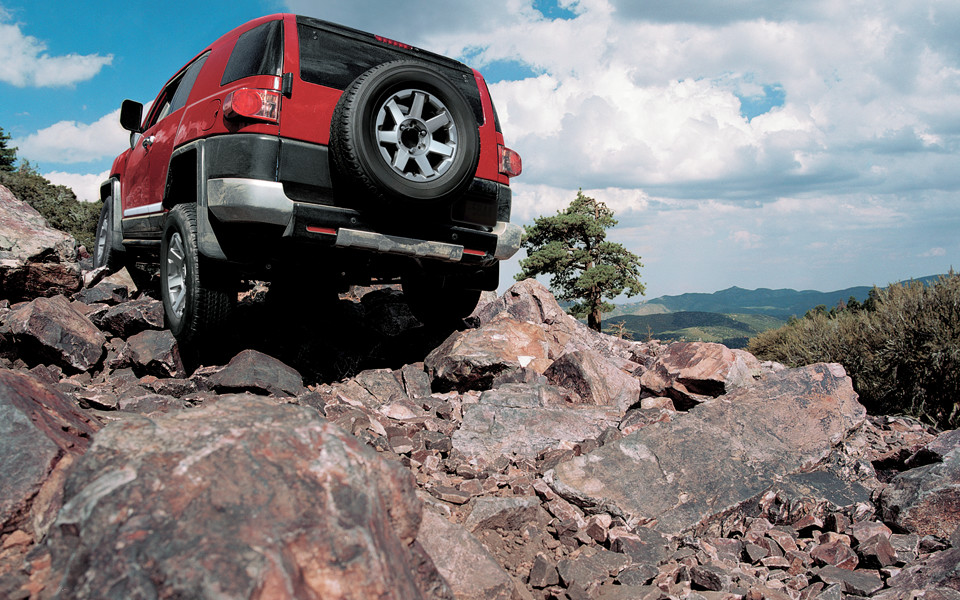 4x4 for everywhere
Take to the hills in the knowledge you have Toyota's legendary 4x4 knowhow behind you. Selectable high and low ratios provide exceptional off-road control and give you freedom to explore the most challenging terrain.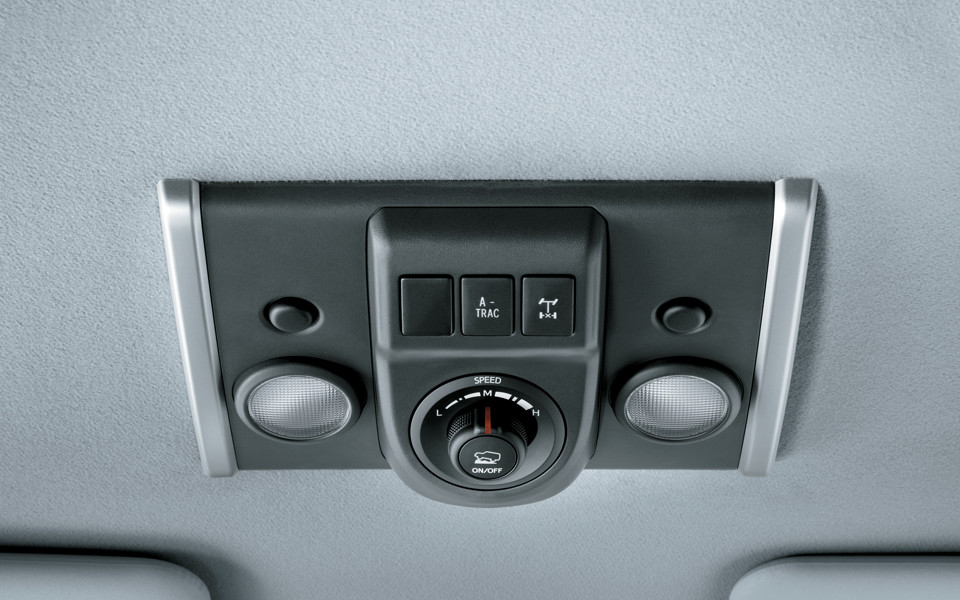 Crawl Control
A function is available to promote the vehicle's off-road driving performance.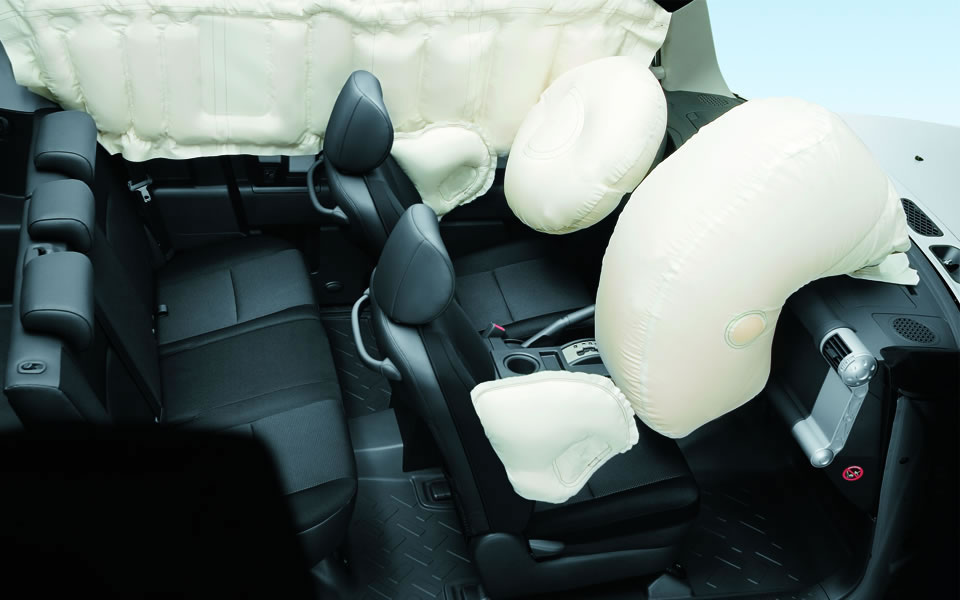 Adventure with peace of mind
Make your all-road adventures safely with the advanced systems in the FJ Cruiser. Anti-lock Brakes (ABS) are complemented by Brake Assist (BA), SRS airbags and the sophisticated A-TRC that helps you retain traction.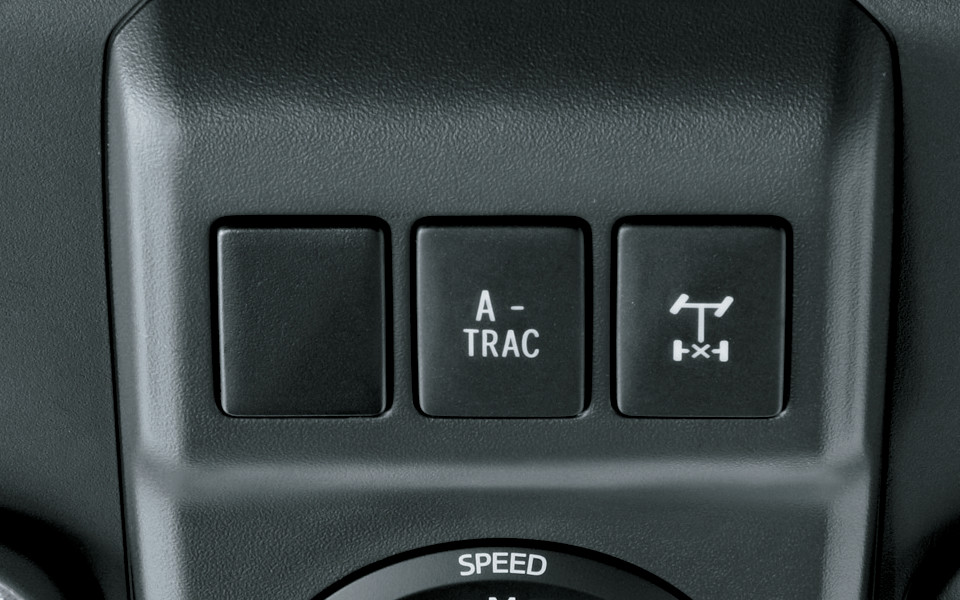 Rear differential lock
A unique feature that distinguishes the FJ Cruiser in off-road driving, the rear differential lock works to distribute power evenly to the rear wheels, making escaping from sand and other rugged surfaces easy.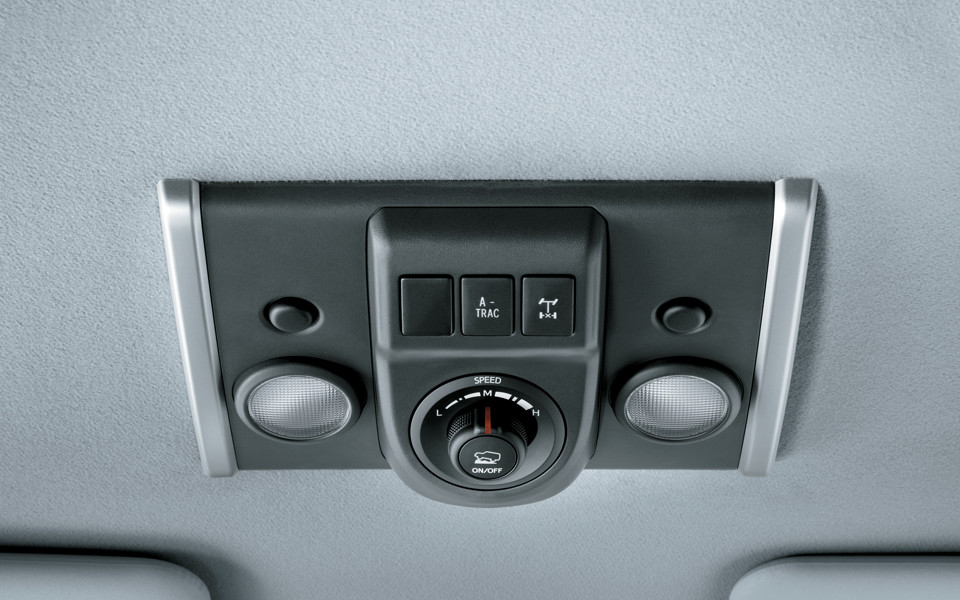 Active Traction Control System (A-TRC)
Enjoy getting the power to the ground. The A-TRC system helps prevent wheel slip by reducing engine power to the wheels with the least traction.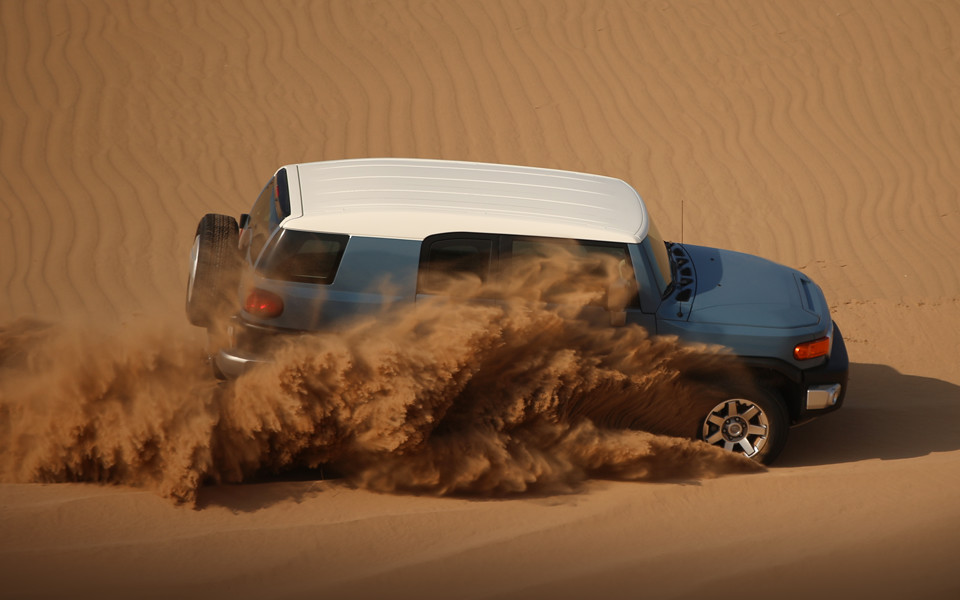 FeaturePromoElectronic Brake-force Distribution (EBD) System
EBD senses which wheels have the most grip and optimizes the distribution of brake force accordingly. This ensures strong and assured braking whilst providing vehicle stability and helping reduce stopping distances.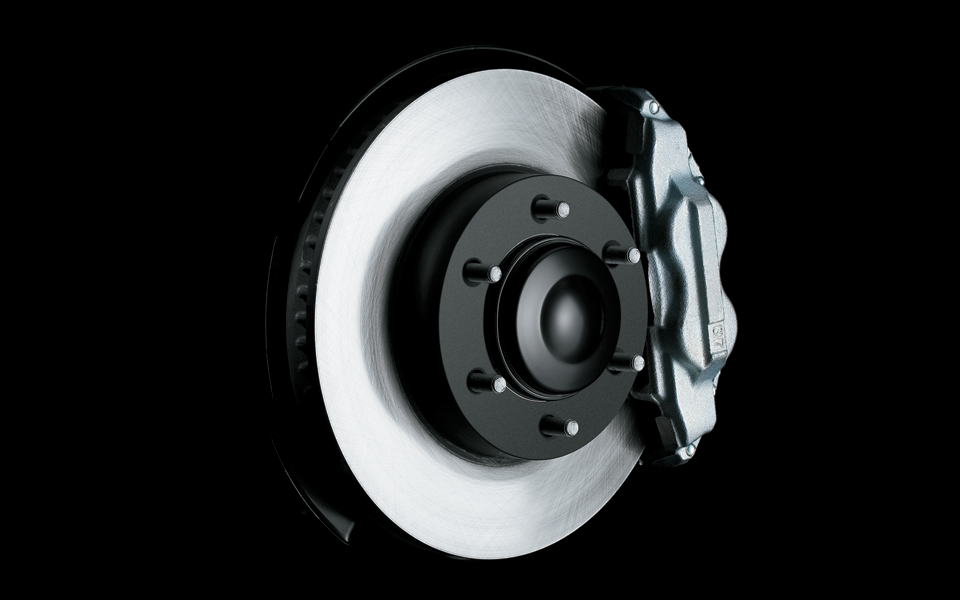 Anti-lock Braking System (ABS)
ABS works to prevent the brakes locking when braking hard or on slippery surfaces. The electronic system regulates braking pressure automatically to release and re-apply the calipers, enabling the driver to stay in control.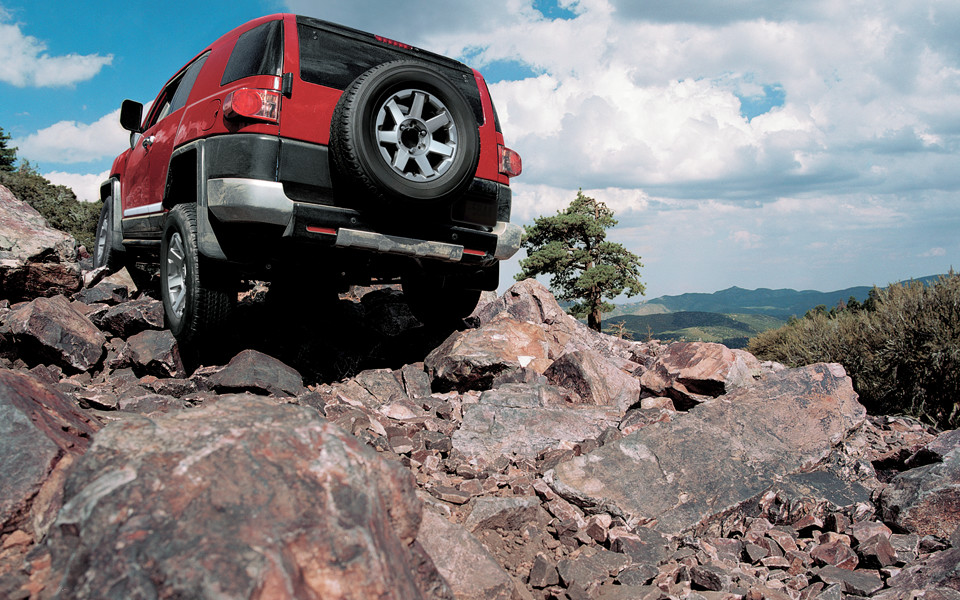 Brake Assist (BA)
Brake Assist helps in heavy braking and emergency stop situations, by increasing brake pressure to the maximum when heavy braking is detected, to ensure your vehicle comes to a halt over the shortest distance possible.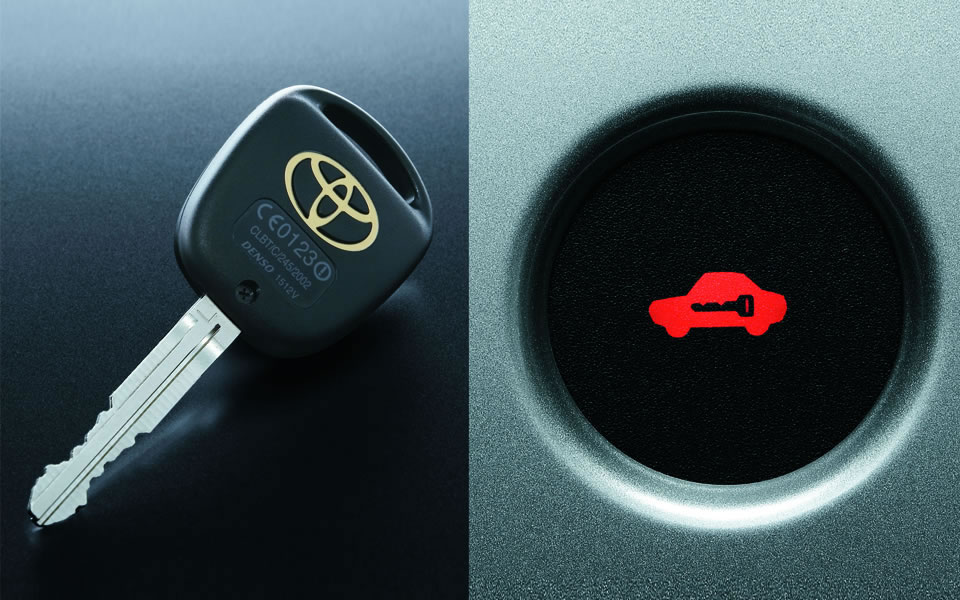 Engine Immobilizer
To help prevent theft, only the original key programmed with a unique code can start your FJ Cruiser.
Whether you're thinking about buying a family-friendly SUV or a fuel-efficient Hybrid, looking for Genuine Parts or need to service your Toyota, visit one of our centers and let our team help you
Find the nearest Center
All information is based on the latest data available at the time of publication, and is subject to change without notice
Learn More
Abdul Latif Jameel Motors is committed to making your Toyota purchase and ownership experience as satisfying as possible. Let us know how we can help you
How can we help you?